Israel extends West Bank closure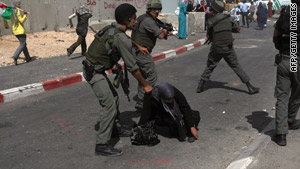 A woman falls to the ground as Israeli soldiers detain her Saturday during a protest at the Qalandia checkpoint.
STORY HIGHLIGHTS
Israeli Defense Minister Ehud Barak extends closure of the West Bank
Closure was initially scheduled to end on Saturday night local time
Closure to remain for three more days, Israeli officials said Saturday

Jerusalem (CNN) -- Israeli Defense Minister Ehud Barak has extended the closure of the West Bank, initially scheduled to end Saturday night, for three more days, Israeli officials said Saturday.
The closure began at midnight Thursday and will be lifted at midnight Tuesday "following additional situation assessments adopted by the defense establishment," the Israel Defense Forces said Saturday.
The sealing off of the West Bank had originally been scheduled to end midnight Saturday.
The closure follows Israel's controversial announcement this week that it plans to build 1,600 new apartments on land in Jerusalem claimed by both Israel and the Palestinians.
Medical workers and patients, religious workers, teachers, humanitarian workers, and journalists will still be permitted to enter and leave the West Bank, the IDF said. It also promised that trade would operate as normal.

Video: Clinton: Israeli action an insult
Security in and around the old city in Jerusalem was also tightened Friday. Police spokesman Micky Rosenfeld said there was extensive deployment of police in largely Arab East Jerusalem in order to prevent riots.
One Palestinian was injured in the old city after Israeli police restricted worshipers from entering the Al Aqsa mosque for Friday prayers.
Worshipers younger than 50 and women of any age were not being allowed to attend Friday prayers at the Al Aqsa mosque, one of the city's holiest sites, Rosenfeld said.
Police were stationed at a number of points around the compound known to Jews as the Temple Mount and to Muslims as Haram-al-Sharif, police said.
People prayed in the streets around entrances to the old city after police prevented them from entering the mosque.
Palestinian medics evacuated one injured man and said he had been hit in the head with an Israeli police baton.
Last week, dozens were hurt during clashes around the mosque, and police used tear gas and rubber bullets against protesters. That violence was sparked by Palestinian opposition to Israel's decision to place two religious shrines in the West Bank on a list of Zionist heritage.
CNN's Kevin Flower and Guy Azriel contributed to this report.