U.S. hikers held in Iran allowed to call home, families say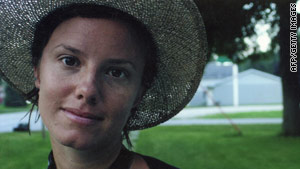 An undated family photo shows Sarah Shourd, one of three U.S. hikers detained in Iran since July 31.
STORY HIGHLIGHTS
Families say phone calls are "positive sign" the three may soon be released
The hikers were detained on July 31 after entering Iran and are charged with spying
Families say they strayed into Iran accidentally
(CNN) -- Three U.S. hikers who have been detained in Iran for more than seven months have spoken by phone with their relatives for the first time since they were jailed, the hikers' families said Wednesday.
"He sounds very well, he sounded very upbeat," said Laura Fattal, whose son Josh Fattal has been held with Shane Bauer and Sarah Shourd. "He's allowed to see television which I'm grateful for ... 15 minutes or so a day, English broadcast."
Laura Fattal, who lives in suburban Philadelphia, Pennsylvania, said that during Tuesday's conversation -- which was between Josh and his father -- the topic of what Iran has told him about his situation did not come up.
"It was just a personal call from child to parent," she said.
Three U.S. hikers -- Shane Bauer, Sarah Shourd and Fattal -- were detained in Iran more than seven months ago.
"It was a tremendous relief to hear their voices at last and know that Shane, Sarah and Josh are keeping well and staying strong," the families said in a statement.
"We believe the calls are a positive signal that their long detention may soon be over after these many months of anguish and uncertainty."
The Americans were detained July 31 after, according to their families, they accidentally strayed across an unmarked border into Iran while on a hiking trip in Kurdistan. They are being held on espionage charges.
Iranian Foreign Minister Manouchehr Mottaki has told the country's semi-official Fars News Agency that Iran plans to put the hikers on trial.
The United States has appealed to Iranian leaders to release the three as soon as possible, Secretary of State Hillary Clinton has said.
In their statement Wednesday, the relatives appealed "to the Iranian authorities to show compassion and allow our families to be reunited in joy and happiness as well."
Bauer and Fattal, both 27, are being held in the same cell in a Tehran prison; Shourd is in a cell there by herself but can visit the other two every day, the families said.
Their mothers have applied for visas to travel to Iran to visit them in prison, but they have not yet learned whether they will be able to do that, the families said.
"These phone calls make us long to embrace them even more," the families said in their statement. "They have been held for far too long and it's time for them to come home."
CNNRadio's Paul Chambers contributed to this report.