Sunni Islam's top cleric dies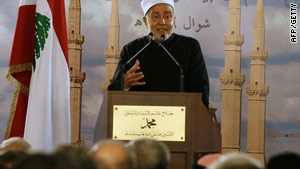 Sheikh Mohammed Sayed Tantawi at the opening of a mosque in Beirut
STORY HIGHLIGHTS
Tantawi was the grand imam at Al-Azhar Islamic center in Cairo, Egypt
He was regarded as the spiritual leader of one billion Sunni Muslims
His mainstream Islamic views were criticised by many Islamists
(CNN) -- Sheikh Mohammed Sayed Tantawi, the head of Sunni Islam's top learning center, died of a heart attack on Wednesday in Saudi Arabia, Egyptian state-run television reported. He was 82.
Tantawi, considered a moderate, was the grand imam at Al-Azhar -- an Islamic center and university in Cairo, Egypt.
He played a similar role in the Sunni Muslim world as the pope does for Catholics, involving life issues.
The center's importance in Islam is such that in June when U.S. President Barack Obama gave his one-and-only speech solely directed to Muslims, he delivered it from Al-Azhar.
Tantawi was appointed by Egypt's President Hosni Mubarak in 1996. Although appointed by the Government, Tantawi was regarded as the spiritual leader of about one billion Sunni Muslims worldwide.
His mainstream Islamic views, such as those on suicide bombing, were criticised by Islamists.
He condemned suicide bombing during speech in 2003 at a conference in the Malaysian capital of Kuala Lumpur. He attacked Islamists for using Islam and jihad, or holy struggle, for their own ends and called on Muslims to open themselves to dialogue with the West.
CNN's Caroline Faraj contributed to this report