Iraq nominates first ambassador to Kuwait since 1990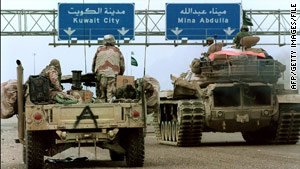 U.S. and Saudi vehicles drive toward Kuwait City in 1991 during Operation Desert Storm.
STORY HIGHLIGHTS
Iraq has not had ambassador to Kuwait since Iraq invaded Kuwait in 1990
That incursion led U.S. to launch Operation Desert Storm, its first Iraq war
New ambassador is Mohammed Hussein Bahr Al-Ulum, Iraq says
Baghdad, Iraq (CNN) -- Iraq has appointed its first ambassador to Kuwait in two decades, the Iraqi Foreign Ministry said Tuesday.
Mohammed Hussein Bahr Al-Ulum was appointed to the post, the ministry said.
While Iraq has had an embassy and a chargé d'affaires in Kuwait since the regime of former Iraqi President Saddam Hussein fell in 2003, it has not had an ambassador there since Iraq invaded Kuwait in 1990.
That invasion resulted in the United States' launching Operation Desert Storm, its first Iraq war, in 1991.
Kuwaiti's Kuna state news agency also reported the appointment, saying, "Iraqi-Kuwaiti relations have been developing since the fall of the Baath regime, with both nations expressing desires to develop bilateral relations."
In February 2009, a Kuwaiti envoy made his country's highest-level visit to Iraq since the invasion. Sheikh Mohammed Sabah al-Salem al-Sabah, Kuwait's deputy prime minister and foreign minister, said at the time that Kuwait wanted to strengthen and develop ties between the two nations, and congratulated Iraq on its recent provincial elections.
"This is Iraq which we have wagered on and we congratulate the Iraqis for this," al-Sabah said, according to Kuwait's official news agency.
Iraqi Prime Minister Nuri al-Maliki, who met with the delegation during the trip last year, said in a statement he told the Kuwaitis that the Hussein regime "harmed Arab relations."
"Some Arabs still view Iraq the same way they did under Saddam, but we tell them Iraq today is built on a constitution and on democracy," al-Maliki said at the time.