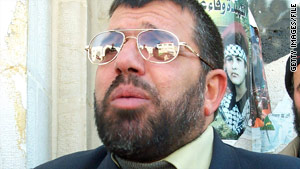 Hamas' Sheikh Hassan Yousef, in an undated photo, is the father of reported Shin Bet informant Mosab Hassan Yousef.
STORY HIGHLIGHTS
Newspaper says Mosab Hassan Yousef was informant for Israel's Shin Bet security service

Yousef's information rated so valuable he was nicknamed "The Green Prince," report says

Youself has moved to U.S., converted to Christianity and renounced militant group

Youself says he's speaking publicly as a means of sending message of peace to Israel

Jerusalem (CNN) -- The son of a Hamas official worked for Israeli intelligence and was the Jewish state's "most valuable source in the militant organization's leadership," a news report said Wednesday.
The Israeli newspaper Haaretz said Mosab Hassan Yousef, 32, son of the Palestinian Islamic movement Hamas founder Sheikh Hassan Yousef, was an informant for Israel's domestic security service known as the Shin Bet, beginning in 1997. He had been recruited while serving time in prison.
The information Yousef passed on was considered so important and saved so many lives that his Shin Bet handlers gave him the nickname "The Green Prince," a reference to his relation to the Hamas founder and the color of the movement's flag.
Yousef was instrumental in the arrest of a number of top Palestinian officials, including Fatah leader Marwan Barghouti and Hamas military wing members Abdullah Barghouti and Ibrahim Hamid, the report said.
The report is based on Haaretz's interview with Yousef and on excerpts from his soon-to-be-released memoir called "Son of Hamas."
In 2007, Yousef left the region for the United States and spoke publicly about his conversion to Christianity and his renunciation of Hamas.
In the Haaretz article, a former Israeli handler described Yousef as being so valuable that he deserved to win the Israel security prize.

Video: Mosab Yousef: 'I was confused'

Video: Analysis: Son of Hamas
"His grasp of intelligence matters was just as good as ours -- the ideas, the insights," said the handler identified as Capt. Loai in Yousef's book, Haaretz reported. "One insight of his was worth 1,000 hours of thought by top experts," he is quoted as saying.
Gideon Ezra, a former Shin Bet chief who stepped down before Yousef was reportedly recruited, said it was unusual for one informant to pass on information "on so many acts of terror" and characterized the case as an exception.
"I don't know anyone who was in the Hamas and who became a Christian. But only because he went to the United States and became a Christian did he write such a book. Because I don't think an agent here would do the same," Ezra said.
Ezra said the Shin Bet -- also known as the Shabak -- has hundreds of agents providing information. "I don't think that he is the only one who helped the Shabak," he said.
Israeli Prime Minister Benjamin Netanyahu's office, which speaks publicly for the Shin Bet, refused to comment.
In a phone interview, Yousef told Haaretz that he was speaking out about his informant activities as a means of sending a message of peace to Israel.
"Hamas cannot make peace with the Israelis," Yousef is quoted as saying, "That is against what their God tells them. It is impossible to make peace with infidels. ... The Hamas leadership is responsible for the killing of Palestinians, not Israelis."
Yousef also expressed regret that much of his work with the Shin Bet could be undone by a deal to release Israeli soldier Gilad Shalit, whom Hamas captured in 2006.
"I wish I were in Gaza now," the paper quotes him. "I would put on an army uniform and join Israel's special forces in order to liberate Gilad Shalit. If I were there, I could help. We wasted so many years with investigations and arrests to capture the very terrorists that they now want to release in return for Shalit. That must not be done."
A Hamas member of Parliament in Gaza, Mushir al-Masri, told CNN the report amounted to "psychological war being waged against the Palestinian people" and that it "did not deserve a response."
Ouwais Yousef, Mosab's brother, said the family had not spoken with Mosab for more than a year. Asked about the Haaretz report, the brother said, "It was full of lies -- it's all lies."
His father, Sheikh Yousef, is serving time in an Israeli prison. An attorney for the elder Yousef obtained a statement from the father saying Hamas knew of his son's contact with Israeli intelligence and adding that he "was not on any day an active member in the ranks of Hamas, in the wings of the movement. ..."
According to the statement, the elder Yousef said, "Since in 1996, when he was 17 years of age, he was subjected to a blackmail and pressure from Israeli intelligence. When it was revealed from that date, the members of the movement were informed about him, and [he] was under the control of his father and the movement, and what has been published of activities he has done against the movement and its mujahedeens and others from the Palestinian people is an outright lie and baseless lie, and there is not one single evidence against him because his relationship with his father was a family relationship only."