Jihadist Web sites warn al Qaeda leaders of possible exposure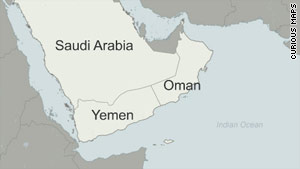 STORY HIGHLIGHTS
U.S. official: Abdullah Saleh al-Eidan was captured in Oman in late January
Jihadist Web sites warn al Qaeda he had over 300 names, numbers on him at time of arrest
Information being carried implies close ties between al Qaeda "central" and Yemen branch
Washington (CNN) -- Some jihadist Web sites monitored by CNN are warning al Qaeda leaders that a recently captured field commander had more than 300 names and numbers plus important documents on him at the time of his arrest.
A U.S. counterterrorism official confirmed that Abdullah Saleh al-Eidan was captured in Oman in late January and is being held now in Saudi Arabia. The official, who is not authorized to speak on the record because of the sensitive nature of the information, would not comment on what intelligence has been gathered from al-Eidan.
But the official did say al-Eidan was caught as he was carrying information from al Qaeda "central" in the Pakistan/Afghanistan region to its affiliate in Yemen known as al Qaeda in the Arabian Peninsula. Oman, Yemen and Saudi Arabia are all located on the Arabian peninsula.
Al-Eidan has a background in explosives and is said to go by the name Barud, which is Arabic for a kind of explosive powder. The U.S. counterterrorism official said al-Eidan is not a senior member of al Qaeda, but he is "far from being just a foot soldier."
One of the jihadist Web sites posted a note on January 28 from an unidentified sender to al Qaeda leaders in Yemen and Afghanistan. It said that al-Eidan had been arrested in Oman and that "he had on his person more than 300 numbers and pictures and important names."
The message encouraged the leaders "to change their locations and mobile numbers as soon as possible."
Some experts question whether al Qaeda would have one individual carry that much important information. But if it is true, this could represent a possible gold mine for intelligence agencies.
It also may indicate a much tighter tie between al Qaeda central and its affiliate in Yemen than had been previously understood.
The story of al-Eidan's arrest was first reported in Newsweek.