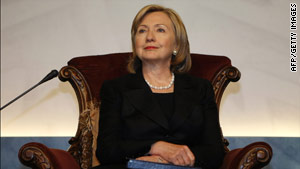 Iran "has refused to demonstrate ... that its nuclear program is entirely peaceful," Clinton said Sunday in Qatar.
STORY HIGHLIGHTS
Clinton: Nations have little choice but to "impose greater costs for [Iran's] provocative steps"
U.N. Security Council permanent members discussing sanctions against Iran
Clinton's remarks come after Iran said it stepped up production of highly enriched uranium
(CNN) -- U.S. Secretary of State Hillary Clinton called Sunday for tougher actions against Iran after its announcement that it is stepping up production of highly enriched uranium.
"Iran leaves the international community little choice but to impose greater costs for its provocative steps," Clinton said. "Together, we are encouraging Iran to reconsider its dangerous policy decisions."
Speaking at the World Islamic Forum in Doha, Qatar, Clinton said the United States is "working actively" with its partners "to prepare and implement new measures to convince Iran to change its course."
Iran already faces U.N. sanctions. The five permanent members of the U.N. Security Council -- the United States, Britain, Russia, China, and France, all of which have veto power -- have been in discussions about possible further sanctions.
Iran said last week that it had completed its first batch of 20-percent enriched uranium and will soon triple production.
Uranium enriched to 20 percent can set off a nuclear reaction, scientists say.
The Islamic republic insists its nuclear program is solely for peaceful civilian purposes.
"But Iran has consistently failed to live up to its responsibilities. It has refused to demonstrate to the international community that its nuclear program is entirely peaceful," Clinton said. "And last year, the world learned of a secret nuclear facility near the city of Qom."
The country could get the enriched uranium that it says it wants for medical research by accepting a proposal under which Iran would ship its uranium abroad to be enriched and then returned, but Iran has rejected that offer, Clinton said.
"This has only deepened the international community's doubts about Iran's nuclear intentions, along with the Iranian government's own isolation."
Iran has also refused recent diplomatic efforts to reach a resolution, she said. "These actions have caused us to wonder: What does Iran have to hide?"
Iranian President Mahmoud Ahmadinejad discussed his country's nuclear activities Thursday at a celebration of the 31st anniversary of the country's Islamic Revolution.
"For a long time they said, 'You can't have this or that. You have to shut down this facility or that. ... You should basically throw away all of our facilities, ' " he told a crowd gathered at Tehran's Azadi, or Freedom, Square.
"But again, our nation stood firm. Our dear leadership stood firm and with the grace of the 12th Imam of the Shiites, our nation today was victorious in the end and the Iranian nation became a nuclear nation."
A soon-to-be released U.S. assessment of Iran's nuclear program is expected to conclude the government has resumed limited work on a nuclear weapon, according to a U.S. official.
Such a conclusion in the new National Intelligence Assessment would revise a controversial assessment released in 2007, which said Iran stopped its weaponization program in 2003. Many Western intelligence services disagreed with the U.S. conclusion at the time.
Clinton also noted Iran's internal strife.
"Our concerns about the Iranian government's intentions internationally are intensified by its behavior toward its own people," she said. "The world has watched the events of the past several months in Iran with alarm. We know of the large-scale detentions and mass trials, political executions, the intimidation of family members of the opposition, and the refusal to extend Iranian citizens the right to peaceful assembly and expression, as we have seen again in just the last few days."
The United States "joins other nations in condemning these events," she said.
"If the Iranian government wants the respect of the international community, it must respect the rights of its own people."
Tehran has repeatedly denied similar accusations.
Clinton's visit to Qatar is part of a two-nation trip, which includes a stop in Saudi Arabia. It is a part of the Obama administration's effort to improve relations between the United States and Arab nations.
"A strong relationship between the United States and the many and varied Muslim communities around the world remains essential to global security, prosperity, and peace," she said.
In her speech, Clinton discussed the Israeli-Palestinian conflict.
"I know people are disappointed that we have not yet achieved a breakthrough," she said, adding that she, President Obama, and George Mitchell, the U.S. envoy to the Middle East, are also disappointed. "But we must remember that neither the United States nor any country can force a solution. The parties themselves must resolve their differences through negotiations."
Clinton also discussed problems with violent extremism in some majority-Muslim nations, and called on Muslim nations to provide more human rights protections to citizens, particularly young people and women.
"It is up to religious leaders around the world to take a stand for women, to call for an end to honor killings, child marriages, and domestic and gender-based violence," she said.
Before beginning her remarks, the secretary addressed the health of her husband, former President Bill Clinton, who had a heart procedure last week.
"He is in great shape," she said, smiling. "All is well, or I would not be here."