STORY HIGHLIGHTS
NEW: Negotiations for proposed sanctions against Iran 'moving along,' Obama says
NEW: EU representative rejects Iran's explanation that move is for medical purposes
Iran began enriching uranium at its Natanz plant Tuesday watched by U.N. inspectors
U.S. has accused Iran of trying to create nuclear weapons
Washington (CNN) -- Iran's announcement that it has begun enriching uranium to the threshold at which it could set off a nuclear reaction drew a sharp rebuke from President Obama on Tuesday.
"Despite their posturing that their nuclear power is only for civilian use, they in fact continue to pursue a course that would lead to weaponization and that is not acceptable," Obama said in a surprise appearance at the White House daily press briefing.
"We have bent over backwards to say we are willing to have a constructive conversation" with Iran about its nuclear program, he said.
He was speaking hours after Iran's announcement, which followed through on a warning it had issued a day before.
The enrichment was taking place at its Natanz facility under the surveillance of U.N. nuclear watchdog inspectors, Iran state media said.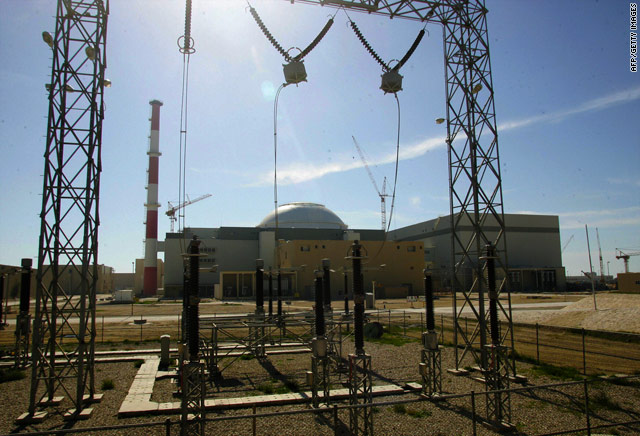 Explainer: Enriching uranium into fuel

Video: Uranium move a smokescreen?

Video: Enriched Iran
An official with the International Atomic Energy Agency confirmed that a team of its inspectors was on site.
The United States and its allies think Iran intends to build a nuclear bomb. Tehran says its nuclear program is for civilian energy and medical use.
This latest step, Iran said, is being done to meet the demands of the country's cancer patients.
Obama said the international community had made an offer to supply Tehran with its medical needs and "they rejected it."
Now the United States and its allies are "developing a significant regime of sanctions that will indicate to them how alone they are," he said.
Obama said negotiations on proposed sanctions for Iran "are moving along."
One of the difficulties of dealing with Iran, Obama said, is that "it's not always clear who is speaking on behalf of the government" in Tehran.
The European Union said just before Obama spoke that Iran's latest move decreased international trust in the regime.
Ramping up uranium enrichment "adds to the deficit of confidence in the nature of Iran's nuclear program," EU foreign policy representative Catherine Ashton said in a statement Tuesday. "This has already been aggravated by Iran's unwillingness to engage in meaningful talks."
Ashton also dismissed Tehran's explanation that it needs to enrich uranium for medical purposes.
To use the uranium to help cancer patients "requires construction of fuel assemblies for which we do not believe that Iran has either the technical knowledge or the intellectual property rights," she said.
"As things stand it seems unlikely that on its own Iran will be able to refuel the Tehran Research Reactor," she said. "We continue to find it difficult to understand why Iran has not taken up the proposed agreement with the IAEA, which would have solved all these problems."
Russia, a key player in the negotiations over Iran's nuclear program, also expressed some frustration Tuesday.
A top Russian security official said that although his country still favors a "political-diplomatic" settlement, "everything has its limits, and any patience may come to an end."
"Iran asserts that it doesn't seek nuclear weapons and is developing a peaceful atomic energy program. But the actions it undertakes, including its decision to enrich its low-enriched uranium to 20 percent -- those actions are causing other countries to have doubts [about the nature of that program], and those doubts are quite justified," Russian Security Council chief Nikolai Patrushev said in a news conference in Moscow, Russia.
Patrushev also said his Iranian counterpart had failed to show up for a scheduled meeting.
"I was to meet with [Saeed Jalili, the secretary of Iran's Supreme National Security Council]," he said. "The meeting was scheduled for a time shortly before they made their announcement on the 20 percent uranium enrichment. He did not arrive. ...
"We are interested in a dialogue, so that [the Iranians] could explain [to] us what's going on. But this does not always work," he said.
Tehran saw a relatively unusual outburst of anti-Italian and anti-French sentiment Tuesday.
About 100 people demonstrated outside the Italian and French embassies, shouting "Down with the USA, France, and Italy," and other slogans, the Italian Foreign Ministry in Rome said.
The French Embassy was pelted with eggs and stones, while the Italian Embassy was not, Rome said.
The demonstrations lasted about 20 minutes and were peacefully dispersed by police. It was the first demonstration in Tehran outside the Italian Embassy in a number of years, the Italian Foreign Ministry said.
It was not clear why the embassies were targeted, but there were reports during anti-government demonstrations in December that the diplomatic missions took in wounded protesters.
The level to which Iran is enriching the uranium -- 20 percent -- is considered "highly enriched," the U.S. National Research Council says on its Web site. That's the threshold for uranium capable of setting off a nuclear reaction. Iran's current uranium was enriched to a maximum of 3.5.
State-run Press TV said the country needs 126 kilograms (264 pounds) of 20 percent enriched uranium to fuel a research reactor, which produces isotopes for cancer patients and is running out of fuel.
Even as tensions rise over Iran's decision to defy the world on the enrichment issue, Iran's envoy to the IAEA, Ali-Asghar Soltanieh, said the window for nuclear negotiations is still open.
"If they [other countries] come to the conclusion that they had better have a cooperative environment or approach, rather than the language of threat, and they are ready to come to the negotiating table, our proposal is still on the table," he told CNN's Christiane Amanpour on Monday.
In October, the five permanent U.N. Security Council members plus Germany gave Iran a deadline of January this year to accept a deal on sending some low-level uranium out of the country for enrichment.
Tehran did not accept that deal and instead made a counteroffer, details of which have not been disclosed.
In the past, the Iranians have signaled concerns about whether any fuel they send out of the country would be returned.
Soltanieh said Iran had decided to advance its enrichment program because it had waited months for international action.
"For nine months, we have hesitated to do so because we wanted to give the opportunity for the others. We think the framework of the IAEA [is] to have some sort of international cooperation to open a new chapter of cooperation, rather than confrontation."
CNN's Maxim Tkachenko in Moscow, Russia, and Hada Messia in Rome, Italy, contributed to this report.