Clinton: No to swapping U.S. hikers for Iranians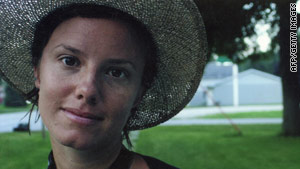 An undated family photo shows Sarah Shourd, one of three U.S. hikers detained in Iran since July 31.
STORY HIGHLIGHTS
Iran president suggests swap in TV interview

U.S. hikers held since July 31 on espionage charges

Iran president also discusses international proposal on uranium

Clinton: Ahmadinejad should make his proposal official

Washington (CNN) -- U.S. Secretary of State Hillary Clinton said Wednesday "there are no negotiations taking place" between Washington and Iran on the idea of exchanging three U.S. hikers held in Iran for Iranians being held in the U.S.
The idea was floated by Iranian President Mahmoud Ahmadinejad in a television interview, but Clinton said: "It is hard to know what the Iranian president meant" by his remark.
The three Americans -- Shane Bauer, Sarah Shourd, and Josh Fattal -- were detained on July 31 when, according to their families, they accidentally strayed across an unmarked border into Iran while on a hiking trip. They are being held on espionage charges.
"As we have said repeatedly, we call on Iran to release all of the American citizens that they have currently detained," Clinton said. "We believe they're being unjustly detained and that they should be released without further delay. We also are very committed ... to making it clear to the Iranians that they should do so on humanitarian grounds since the detention of our citizens is baseless."
In his televised interview, the Iranian president also said he could accept an international proposal to ship most of Iran's low-enriched uranium out of the country for enrichment.
Clinton, however, said Ahmadinejad should make his proposal official: "The IAEA (International Atomic Energy Agency) made a good-faith offer. Iran initially accepted it but has not followed through ... The deal is still on the table.
"If Iran wishes to accept it, we look forward to hearing about it from the IAEA because that's the appropriate venue for them to file an official response," Clinton said.
The U.S. is lobbying for tougher international sanctions on Iran for its nuclear program. Clinton said Washington "has worked with our partners in the Gulf and through the U.N. with other countries to offer Iran a clear choice between isolation and meeting its international obligations.
"Iran's response to our efforts has been inadequate and we have begun considering further appropriate measures that might convince Iran to reconsider its nuclear program and engage with the international community," Clinton said.
FOLLOW THIS TOPIC