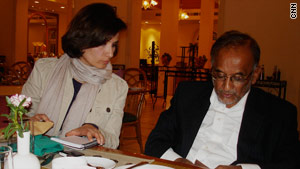 Dr. Nasser al-Awlaki, shown last month in an interview with CNN, says his son is not a member of al Qaeda.
STORY HIGHLIGHTS
Anwar al-Awlaki's father: My son is not a member of al Qaeda
Al-Awlaki had contact with Fort Hood suspect, and reportedly with plane plot suspect
Al-Awlaki, believed to be in Yemen, is said to have denied that he was involved in plots
Father asks Obama to "reconsider your order to kill or capture my son"
London, England (CNN) -- The father of an al Qaeda suspect wrote to President Obama on Tuesday, urging him to reconsider an alleged order to capture or kill his son.
The father of Anwar al-Awlaki denies in the letter that his son is a member of the terrorist group.
"My son is innocent, has nothing to do with violence and he is only a scholar of Islam and I believe that this has nothing to do with terrorism. So I plead again to you that you respect the American law and if Anwar ever did anything wrong he should be prosecuted according to the principles of American law," Dr. Nasser al-Awlaki wrote to Obama.
CNN obtained an exclusive copy of the letter.
The younger al-Awlaki is a fugitive American-born preacher. He reportedly met with the suspect in December's Detroit airline bombing attempt, Umar Farouk AbdulMutallab, in Yemen last fall and had contact with Maj. Nidal Hasan, accused of fatally shooting 13 people at Fort Hood, Texas, in November.
A United States counterterrorism official described Anwar al-Awlaki as "a key associate of al Qaeda in the Arabian Peninsula's top leaders and one of their go-to men for external plotting," using the full name of the al Qaeda affiliate in Yemen.
Al-Awlaki is considered a high-value target, the official said. The U.S. government does not comment officially on such designations, but being considered a high-value target would potentially put him in the crosshairs of the United States.
Another American security official told CNN that al-Awlaki is wanted for questioning by U.S. authorities but denies there is an explicit order to "take him out."
In the letter to Obama, Nasser al-Awlaki says his son "is simply a preacher who has the right to spread the word of Islam wherever he likes and this is definitely lawful and protected by the American Constitution."
"I hope that you reconsider your order to kill or capture my son based on the wrong assumption that he is a member of al Qaeda," the father wrote.
U.S. security sources told CNN last month that they had concrete and independent confirmation that Anwar al-Awlaki had met AbdulMutallab, the Nigerian accused in the failed Christmas Day bomb plot. And two recent media reports have quoted al-Awlaki as admitting he met with AbdulMutallab.
Al-Awlaki denies in the reports he knew anything about the bombing attempt but says he supports what AbdulMutallab did. CNN cannot independently confirm the reports.
In the past, al-Awlaki confirmed his contact with Hasan, the Fort Hood suspect. He claimed to support Hasan's alleged actions but denied having any involvement in the attack.
Al-Awlaki's father is campaigning both for his son to surrender to authorities and for the Yemeni and American governments to call off the manhunt for him.
Last month in an exclusive interview with CNN, Nasser al-Awlaki said, "I am now afraid of what they will do with my son. He's not Osama bin Laden. They want to make something out of him that he's not."
"How can the American government kill one of their own citizens? This is a legal issue that needs to be answered."
Revered on radical Islamic Web sites, Anwar al-Awlaki is now believed to be hiding in the mountains of southern Yemen.
His family denies he is with al Qaeda operatives.
The al-Awlaki family comes from a large and powerful tribe in southern Yemen called the al-Awalek tribe. It has many connections to the government of Yemen, including the country's prime minister, Ali Mohammed Mujawar, who is a relative of the family.
In an interview with CNN last week, Mujawar seemed to shrug off responsibility for the capture of al-Awlaki, saying, "He's carrying an American passport. Actually, he's an American."