Campaign to save teenager facing deportation to Pakistan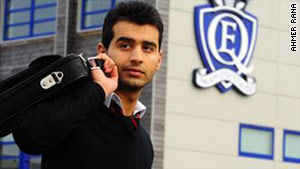 Ahmer Rana faces imminent deportation to Pakistan having failed in his appeal to remain in the UK.
STORY HIGHLIGHTS
Ahmer Rana faces deportation to Pakistan from the UK
A petition was handed to the office of the British minister of immigration Thursday
He sought asylum after his parents feared for his life
UK Border Agency says he has no legal right to live in the UK
London (CNN) -- A Pakistani-born teenager now living in Wales presented a petition Thursday in London to the British Government in a last-ditch bid to avoid imminent deportation.
Ahmer Rana and his supporters delivered the letter to the office of the British immigration secretary Damian Green after being told by the UK Border Agency that he will be returned to Pakistan.
Having exhausted all legal avenues, his foster parents, school friends, teachers and his local member of parliament have launched a final campaign to prevent the deportation, arguing that Ahmer has settled in the UK and that to deport him would be disruptive. They also say he has lost contact with his parents.
He was told at a November tribunal hearing that he must leave the UK when he reaches 18 because he has no legal right to remain in the country. An appeal against the decision failed. Ahmer turns 18 on Christmas Day.
Ahmer, whose family is from the northern city of Lahore in Pakistan, has lived in Carmarthenshire, Wales, with his foster parents John and Lesley Hillard since 2008.
He was smuggled to the UK aged 14 when his parents claimed their lives were in danger because of a violent feud between Ahmer's father and his enemies.
Attempts by the Pakistani Red Crescent and the British Red Cross to trace his parents in Pakistan have failed although they continue according to Ahmer, who says the Red Cross writes to him every six months.
A high school student who hopes to become an accountant, Ahmer told CNN: "It makes me feel terrible that I could be deported, I've built up my life here."
Lesley Hillard told CNN: "They will have to ram my door down, I'll handcuff myself to him. This boy is well and truly terrified of being sent back to Pakistan. He is a lovely boy and is a part of our family now."
Jonathan Edwards, the Plaid Cymru member of parliament, accompanied Ahmer on the trip to London to deliver the letter.
"He's (Ahmer) already had to rebuild his life after he sought asylum in this country and he would have to build it again if he was deported. As we have exhausted all legal avenues it will up to the (immigration) minister to offer discretion."
A UK Border Agency spokesperson told CNN: "This individual has no right to be in the country.
"Mr Rana's claim was turned down by the UK Border Agency and then by an appeal court where a judge found that elements of his case were inconsistent and that he had failed to show that he faces persecution in Pakistan."
FOLLOW THIS TOPIC