Stockholm subway station shut over suspicious item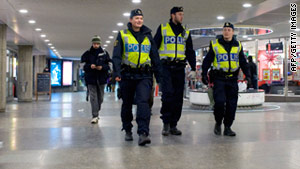 Police patrol at a Stockholm subway station on December 14. Sweden has been on edge since its first suicide bombing.
STORY HIGHLIGHTS
Police evacuate a Stockholm station after a report of an item that looked like a bomb
The device was harmless and "must have been some kind of bad joke," a police officer says
A recent suicide bombing has heightened Sweden's concern for possible terror attacks
(CNN) -- A Stockholm subway station shut Thursday night as Swedish police converged on an item made to look like a bomb.
Authorities got a call around 8:30 p.m. alerting them about the suspicious device at Kungstradgarden subway station in the Swedish capital, Stockholm police Capt. Henrik Billstam said.
The station was promptly evacuated. Bomb technicians determined that the device was harmless, and the station reopened.
"It did not contain any explosives, but it was clearly made to look like a bomb," Billstam said. "So this must have been some kind of bad joke."
While not historically a hotbed for terrorist activity, Sweden has been on edge since its first suicide bombing.

Bombing raises fears in Sweden
Earlier this month, two explosions killed the bomber, Taimour Abdulwahab, and wounded two other people in a district full of Christmas shoppers.
Authorities say Abdulwahab had lived in Iraq and sent e-mails indicating his distaste for the presence of Swedish troops in Afghanistan and the Scandinavian country's tolerance of Lars Vilks' newspaper cartoon of the Prophet Mohammed as a dog
Days later, Swedish police released a report indicating that violence-promoting Islamist radicals do exist in their country and should not be underestimated as potential threats, according to a study from Swedish Security Police.
The report, commissioned months before the terrorist bombings, identified almost 200 people, mostly young males, as Islamic extremists who advocate violence. Still, while noting the presence of such people, the study did not find any indication that their number is growing.
CNN's Per Nyberg contributed to this report.
FOLLOW THIS TOPIC