Assange lashes back at U.S. critics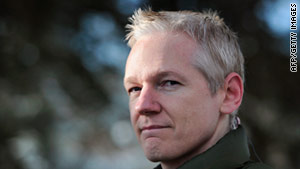 Assange told MSNBC that one of his high-profile critics is "just another idiot trying to make a name for themselves."
STORY HIGHLIGHTS
Assange says critics like Mike Huckabee are inciting to commit murder
He says critics are out to make a name for themselves
The WikiLeaks founder says that he does not know who the source of his leaks are
(CNN) -- WikiLeaks founder Julian Assange hit back at high-profile critics in the United States in a TV interview Wednesday.
Speaking to MSNBC, Assange responded to statements from Vice President Joe Biden, former Alaska Gov. Sarah Palin and former Arkansas Gov. Mike Huckabee.
Biden and Palin had likened WikiLeaks' dissemination of classified State Department cables to terrorism, and Huckabee went as far as to say that "I think anything less than execution is too kind a penalty."
"Just another idiot trying to make a name for themselves," Assange said. "If we are to have a civil society you cannot have senior people making calls on national TV to go around the judiciary and murder people. That is incitement to commit murder. That is an offense."
Assange spoke to MSNBC from England, where he is under house arrest after being freed on bond after his arrest in relation to sex charges in Sweden.
He wondered whether the United States was going into a "state of anarchy" when its leaders made such criticisms of him.

101: WikiLeaks revealed

A look at Assange's media circus
He asked whether the United States is a place "where we do not have due process, where those great Bill of Rights traditions of due process are just thrown to the wind whenever some shock jock politician can use it to make a name for themselves?"
Assange also reiterated comments he made on CNN recently that he does not know who the source of the hundreds of thousands of classified documents is.
U.S. Army Pfc. Bradley Manning is under arrest as the suspected leaker of the cables and other documents to the website. But Assange says that the way the process for contributing to his website works, he does not know the identity of the source.
"We do not know if this young man is our source of not," he said.
Whether he is the source or not, Assange said that Manning acted out of political purposes, and as such is a political prisoner in the United States.
FOLLOW THIS TOPIC