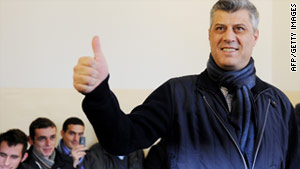 Kosovo Prime Minister Hashim Thaci at a polling center during elections earlier this year.
STORY HIGHLIGHTS
"Let's work on the truth," the Council of Europe's Dick Marty says
His report cites evidence that organs were removed from prisoners for transplant abroad
Kosovo's acting president calls the allegations "fabricated and irresponsible"
Ex-Kosovo Liberation Army figures are still involved in criminal activity, the report says
Paris (CNN) -- Authorities in Kosovo must conduct a "tough, independent investigation" into allegations of organ harvesting from prisoners of war, a leading European human rights activist demanded Thursday.
"These things were known by intelligence agencies in various countries, by police, by many people," said Dick Marty, whose report into the allegations was approved by a Council of Europe committee Thursday.
But people in Kosovo are afraid to come forward and give evidence, he said.
"In private they said, 'Yes, we know,' but because of political opportunism they decided to keep quiet," he said.
The report links Kosovar Prime Minister Hashim Thaci to allegations that organs were stolen from prisoners of war and political rivals when the Kosovo Liberation Army was fighting Serbian forces for control of the territory.
"Numerous indications seem to confirm that ... organs were removed from some prisoners ... to be taken abroad for transplantation," the Marty report says.
Investigators have "made progress" toward "proving the existence of secret KLA places of detention in northern Albania where inhuman treatment and even murders are said to have been committed," it says.
Illegal organ trafficking continued after the war ended, the report suggests.

Kosovo's organ trafficking scandal

Report claims Kosovo rebels stole organs
But pressed for proof on Thursday, Marty was able to provide little.
His report provides the leads, and authorities in Kosovo must now investigate, he said.
"We've provided enough leads to justify that it is time for a tough, serious, independent investigation, anchored in conditions where witnesses can feel they can talk. That is the problem," he said.
Nearly 1,900 people who disappeared during the conflict still have not been found, and another 500 disappeared after NATO troops arrived in June 1999, Marty says.
The Kosovo Liberation Army was backed by NATO bombing when it fought for independence from Serbia in the late 1990s.
Links between "criminal activity" and "certain KLA militia leaders ... has continued, albeit in other forms, until today," the report charges.
Prime Minister Thaci is one of the founders of the Kosovo Liberation Army. The report names him as the "boss" of a prominent faction in the militia that "apparently wrested control" of "illicit criminal enterprises" from rivals across the border in Albania.
Thaci said Thursday that the allegations in the report are baseless.
"Dick Marty's report is just a recirculation of propaganda, a scandalous, untrue, politically motivated, project-report whose aim is to blot him, the Kosovo Liberation Army and all Albanians in the region," he told reporters Thursday.
Thaci said he is looking into all legal and political possibilities to bring out what he said is the truth. He did not say which legal means he is planning to take.
"The truth and justice are on Kosovo's side," he said.
Kosovo's government called the report "defamatory" and "mendacious," saying the allegations "have been constructed to damage the image of Kosovo and the Kosovo Liberation Army."
Kosovo's acting president, Jakup Krasniqi -- a Thaci ally -- expressed deep indignation about the report, saying it is "nothing but fabricated and irresponsible statements."
Albanian Prime Minister Sali Berisha said it is "based on no facts, evidence or reality. Thus it proves political line of the author, who flagrantly abuses the authority of the Council of Europe."
European Union officials in Kosovo said that anyone with concrete evidence of war crimes or organized crime should come forward.
"The mission is already investigating and prosecuting a number of cases related to war crimes and organized crimes," spokesman Blerim Krasniqi said.
Kosovo's majority population is ethnic Albanian. Serbs are the minority.
Kosovo has made it "complicated" to dig for missing bodies, and Albania has refused to allow it, Marty says, adding: "Serbia ultimately cooperated."
Evidence has been destroyed in the years since the conflict, Marty's report says.
He acknowledges the chaotic situation in Kosovo after the war but criticizes the international community for tending to see Serbs as aggressors and Kosovars as victims.
"The reality is less clear-cut and more complex," Marty writes.
But the international authorities who took control after the 1999 war felt that they "needed to promote short-term stability at any price, thereby sacrificing some important principles of justice," the report says.
Kosovo was a province of Serbia but declared independence in 2008. About 70 countries have recognized the declaration, but Serbia does not, and international organizations, including the United Nations and European Union, continue to have administrators in Kosovo.
The report is based partially on investigations by European Union officials and was written by Marty for the Council of Europe's Committee on Legal Affairs and Human Rights.
The Council of Europe, an organization with 47 member countries, seeks to promote democracy and human rights. The council's parliament plans to debate the Marty report in January.
CNN's Saskya Vandoorne in Paris and journalist Vlora Rustemi in Pristina, Kosovo, contributed to this report.
FOLLOW THIS TOPIC