Man goes on rampage, kills 4 in Spain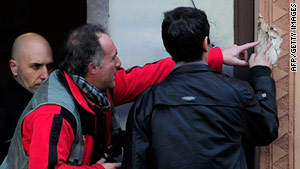 Spanish forensic experts investigate a bullet hole the scene in Barcelona on Wednesday.
STORY HIGHLIGHTS
The suspect killed four people in two towns near Barcelona
He reportedly owned a construction firm that had financial problems
Police have captured the suspect
Madrid, Spain (CNN) -- A man armed with a rifle killed four people in two towns near Barcelona on Wednesday, CNN affiliate CNN+ and Spanish media reported.
The 57-year-old suspect owned a small construction company that reportedly had financial difficulties.
The first two victims were a man and his son from a different construction company that apparently hired the suspect's firm as a subcontractor and owed him money, authorities said.
They were killed in a bar in the village of Canya, in Girona province near Barcelona, in northeastern Spain.
Police were immediately alerted and began a manhunt for the suspect, the media outlets reported.
In the meantime, the suspect went to the nearby, larger town of Olot and entered a bank that had reportedly seized his home because of unpaid debts, the media outlets reported. The man shot and killed the bank branch's deputy director and an employee.
Police captured the suspect near the bank, media outlets said.
Rampage killings are rare in Spain, which is suffering a deep economic crisis in large part because of a construction boom that went bust. That left banks, companies, and many people with huge debts as building projects went bankrupt or were severely delayed, slowing payments.
CNN's Al Goodman contributed to this report.