Kosovo PM's party leads landmark election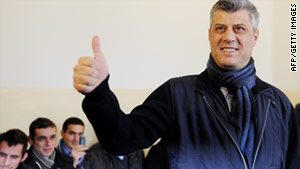 Prime Minister Hashim Thaci gives the thumbs up at a polling center on Sunday.
STORY HIGHLIGHTS
Kosovo declared independence from Serbia in 2008
Serbia still considers Kosovo to be part of the country
The United States and European Union are paying close attention
Pristina, Kosovo (CNN) -- Prime Minister Hashim Thaci's ruling party led Kosovo's weekend elections but will need to find allies from among other parties to form a new government, the fledgling nation's electoral commission reported Monday.
With all but 1 percent of districts reporting, Thaci's Democratic Party of Kosovo won 33.5 percent of Sunday's vote in a field of 29 parties, according to Kosovo's Central Election Commission. Its leading rival, the Democratic League of Kosovo, won 23.6 percent, while the Self-Determination Movement -- which favors a union with neighboring Albania -- ran third with 12.2 percent, the commission reported Monday.
Sunday marked the first locally run parliamentary election in Kosovo, which has been under U.N. administration since the end of a 1999 conflict between NATO and the former Yugoslavia. International agencies ran Kosovo's elections before November 2009, when the electoral commission held municipal elections.
Thaci has 90 days to form a government and is reportedly looking at a Serb party to join a coalition with his party. Serbs make up about 5 percent of Kosovo's population of 1.8 million, and Serbian turnout was a higher-than-expected 15,000 to 20,000, according to Serbian media reports.
The majority-Muslim and ethnic Albanian territory declared its independence from Serbia in 2008, but Serbia and Kosovo's Serb minority refuse to recognize that declaration. The 120-seat parliament will include a handful of seats are reserved for ethnic Albanians, Serbs, Bosnians, Turks and other minorities.
Thaci was forced to call a snap election after losing a vote of confidence in November. He campaigned on promises of reform and liberalized visas with the European Union within 15 months. The EU and the United States have called on Kosovo to hold fair and democratic elections as a test of its progression EU membership.
International observers raised complaints of fraud in two municipalities in central Kosovo and urged that anyone found responsible be punished. But Kosovo's acting president, Jakup Krasniqi, called the election successful and called on political parties to address their complaints to competent authorities.
Valdete Daka, the head of the electoral commission, said Monday that it would handle any complaints from the parties.
Kosovo was the site of the last of the wars spawned by the breakup of Yugoslavia in the 1990s. NATO intervened in the struggle between Albanian insurgents and the Serb-dominated Yugoslav army and paramilitaries in 1999, driving the Serbian forces out of the territory. Kosovo's independence has been officially recognized by 72 countries, including the United States and most of the NATO allies.
The U.S. Embassy in Pristina congratulated the country on the vote, calling it an efficient process "with some serious exceptions." It urged anyone who witnessed those irregularities to follow the legal mechanisms set up to address them.
And two members of European Parliament, Doris Pack and Ulrike Lunacek, who monitored the elections praised Kosovars -- especially the Serb minority -- for their turnout, while urging authorities to address any irregularities.
Journalist Vlora Rustemi contributed to this report.