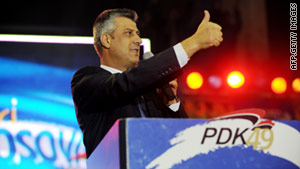 Current PM Hashim Thaci has campaigned on a platform of reform and visa liberalization.
STORY HIGHLIGHTS
Kosovo declared independence from Serbia in 2008
Serbia still considers Kosovo to be part of the country
The United States and European Union are paying close attention
Results aren't expected for at least 24 hours after polls close
(CNN) -- Voters in Kosovo are electing their first new government since declaring independence from Serbia.
The snap poll pits outgoing Prime Minister Hashim Thaci's Democratic Party of Kosovo against the Democratic League of Kosovo, led by Isa Mustafa, and various smaller parties.
Kosovo, which has strong links to predominantly Muslim Albania, declared independence in February 2008. Serbia and Kosovo's Serbian minority, among others, refuse to recognize the declaration, and Kosovo is officially administered by the United Nations.
Ethnic Serbs are expected to boycott the poll.
It was forced when Thaci lost a confidence vote November 2.
Thaci campaigned on promises of reform and visa liberalization with the European Union within 15 months.
Other political parties promised a better economy, while freer travel to the EU was also on their agendas.
The elections are the second ones run by Kosovo's own election commission. It ran mayoral and municipal elections in November 2009. International agencies ran Kosovo's elections for nine years before that.
The Kosovo government estimates the country's population at more than 2 million, with an estimated 92 percent Albanian, 5.3 percent Serbs, and 2.7 percent other groups.
Serbian-Albanian sectarian tension boiled over there as the former Yugoslavia broke up in the 1990s.
After the brutal civil war in Kosovo in the late 1990s -- which pitted Kosovo Albanian insurgents against Serb security forces and Belgrade-backed Kosovo Serb paramilitaries -- a U.N. mission and a NATO-led peacekeeping force began operating in the region.
Kosovo's independence has been officially recognized by 72 countries.
Polls opened Sunday at 7 a.m. (1 a.m. ET) and will close 12 hours later. Results will take at least 24 hours, election officials say.
More than 1.6 million people are eligible to vote, with a choice of 29 political parties competing for the 120-seat Parliament, according to the Central Election Commission. A handful of seats are reserved for ethnic Albanians, Serbs, Bosnians, Turks and other minorities.
Election materials were delivered Saturday under heavy police security to 2,000 polling stations in 37 municipalities, CEC head Valdete Daka said.
The CEC has prepared 114 mobile teams for the the flashpoint town of Mitrovica, which is ethnically divided between Albanians and Serbs.
The European Union and NATO will be paying close attention to Kosovo's ability to carry out elections, with Kosovo aspiring to join both international organizations.
The European Union and United States have called on Kosovo to hold fair and democratic elections as a test of its progression toward the EU.
Journalist Vlora Rustemi in Pristina, Kosovo, contributed to this report.
FOLLOW THIS TOPIC