Engagement pictures of William, Kate released
STORY HIGHLIGHTS
Two photos show the recently engaged Prince William and Kate Middleton
The pictures were taken November 25 by Mario Testino at St. James' Palace
The couple will be married April 29, 2011, at London's Westminster Abbey
(CNN) -- The upcoming nuptials of Prince William and his fiancee, Kate Middleton, became even more official Saturday, with the release of a pair of engagement photographs.
The pictures, sent by Prince William's press office and distributed by the Press Association, came out several months ahead of the April 29, 2011, wedding at London's Westminster Abbey.
The prince proposed to Middleton, whom he had dated for much of the past eight years, on October 20 in a remote spot 10,200 feet (3,100 meters) above sea level on Mount Kenya, Africa's second highest peak.
Photographer Mario Testino took the engagement pictures, among others, on November 25 at St. James' Palace in London.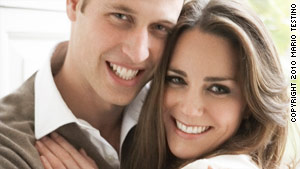 Photographer Mario Testino took the official engagement pictures on November 25.
"They are in their prime and brimming with happiness," Testino said. "I have never felt so much joy as when I see them together."
The wedding day will be a national holiday, Prime Minister David Cameron has said, though Scottish lawmakers still must approve the measure because Scotland has its own semi-autonomous government.
Sir Elton John -- a favorite of William's mother, the late Princess Diana -- has revealed that he may perform at the wedding. And rapper Snoop Dogg recenty released a song that he said would be perfect for the prince's bachelor party.

Part of complete coverage on

A lot has changed since the 15th century, when Oliver Cromwell overthrew the monarchy. Today, British republicans fight with ... street parties.

From the walk down the aisle to the vows and kiss on the balcony, we show you the best moments from the royal wedding.

From camping out in Hyde Park to highlights of the wedding ceremony, take a look at the day in photos
The biggest fashion show on earth, the royal wedding, got underway in a riot of bright colors, flamboyant fascinators and larger-than-life hats

At last, it's revealed! Kate walks down the aisle in a timeless dress designed by Sarah Burton of Alexander McQueen.

Crazy memorabilia, the skinny on the dress and more! Your spot for all things royal wedding right now.

Americans woke up at dawn to attend royal wedding parties complete with tea, scones and in some cases, clipped British accents

Share your photos and video and be a part of the royal wedding with CNN and iReport!


Most popular stories right now