Irish parliament to vote on bailout package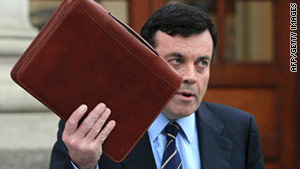 Ireland Finance Minister Brian Lenihan holds a folder containing his 2011 budget. The Irish parliament will vote next week on whether it will accept a bailout from the European Union.
STORY HIGHLIGHTS
Vote will happen next Wednesday
Vote is on 85 billion euro loan from EU, International Monetary Fund, others
Ireland's prime minister secures his party's backing until next year's election
(CNN) -- The Irish government announced Thursday that the country's parliament will vote next week on whether the country will accept a bailout from the European Union, International Monetary Fund, and individual European nations.
Irish Prime Minister Brian Cowen requested the loan last month and European Union finance ministers quickly agreed on an 85 billion euro (U.S. $113 billion) bailout package for Ireland.
"The Memorandum of Understanding has been put in place legally, legitimately and in the national interests of this country," Cowen said Thursday, referring to the bailout deal.
"However, Fine Gael, the Labour Party and Sinn Fein continue to try to make the public believe that there is an easy way out of the country's funding crisis," Cowen said in a statement, referring to a handful of Irish political parties. "Given the seriousness of the situation, I do not believe this myth can be allowed to continue unchallenged."
The vote on the bailout package is scheduled for next Wednesday.
The goal of the aid, Ireland's ruling Fianna Fail party says, is to return the nation's economy to sustainable growth and restore the health of its banking system.
The four-year austerity plan achieves savings through welfare cuts worth 10 billion euros ($13.2 billion) and higher taxes, expected to bring in 5 billion ($6.6 billion).
On Tuesday, Ireland unveiled a tough new budget, changing the income tax system, raising taxes on gasoline and diesel fuel and reducing benefits for parents.
Dublin is cutting 6 billion euros (nearly $8 billion) from its budget as it tries to claw its way out of massive debt.
Also Thursday, Cowen secured his party's endorsement to continue as its leader until next year's election.