Russia checking whether arrested British lawmaker aide is citizen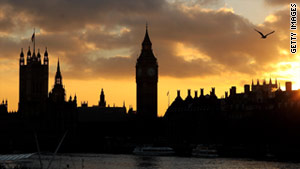 Katia Zatuliveter was an aide to a Liberal Democrat lawmaker in Britain's parliament.
STORY HIGHLIGHTS
The Sunday Times reported MI5 determined the woman is a spy
The lawmaker she worked for denied that on Sunday
If she is a citizen, Russia will seek consular access to her: FM
(CNN) -- Russia is checking to see whether an aide to a British lawmaker, who has been arrested and is facing expulsion from the United Kingdom, is a Russian citizen, according to media reports.
London's Sunday Times newspaper said the British intelligence service MI5 determined that Katia Zatuliveter, 25, was a Russian sleeper agent. But the member of Parliament she worked for, Liberal Democrat Mike Hancock, denied on Sunday that she is a spy.
"We are checking right now whether she is a Russian citizen," Russian Foreign Minister Sergey Lavrov said Monday, according to Russian news agencies. He spoke to reporters in Warsaw, Poland, where he is accompanying Russian President Dmitry Medvedev on a state visit.
"If she is indeed a Russian citizen, we will seek consular access to her and will speak to her," Lavrov said, according to the RIA-Novosti news agency.
Hancock said that Zatuliveter was detained Thursday, although the arrest did not become public until Sunday.
It is difficult to understand the reasons for all this. She has been an excellent and conscientious employee.
--MP Mike Hancock
"I know nothing about espionage, but she has been subjected to a deportation order," he said Sunday. "She is appealing it, because she feels -- quite rightly -- that she has done nothing wrong."
Zatuliveter has been working for Hancock for more than two years and was "vetted and cleared to have a parliamentary pass," the lawmaker said.
"It is difficult to understand the reasons for all this. She has been an excellent and conscientious employee," Hancock said in a statement, wishing her well.
"It is now in the hands of her lawyers. I am sure that in the end she will be proved to be right," Hancock said.
The Home Office -- which is responsible for domestic security and speaks for MI5 -- declined to comment on the allegations, saying it did not routinely comment on individual cases.
Russia's secret service, the FSB, also declined to comment on the case Sunday.
Hancock represents the southern section of the English city of Portsmouth on the south coast. He has been a member of Parliament since 1997. The Liberal Democrat party to which he belongs has been the junior partner in a British coalition government since May.
He lists Russia, Ukraine, Moldova and Romania among his interests, and is active in lawmakers' groups focused on NATO and Western Europe.
CNN's Per Nyberg, Maxim Tkachenko and Arkady Irshenko contributed to this report.
FOLLOW THIS TOPIC