Officials: Charges possible in Nigeria probe of Halliburton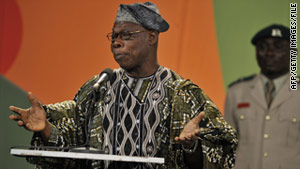 There are allegations the bribes went all the way to the top, possibly to then-President President Olusegun Obasanjo.
STORY HIGHLIGHTS
No one has yet been charged in the case
It is unclear whether former Vice President Dick Cheney will face charges
The investigation relates to possible bribes paid to secure a gas contract in the 1990s
Lagos, Nigeria (CNN) -- Charges are possible in a Nigerian investigation into whether Halliburton, the American energy services company, paid bribes to secure a lucrative natural gas project in the 1990s, Nigerian investigators said Friday.
The Economic and Financial Crimes Commission has not charged anyone in the case, and a spokesman did not say whether former U.S. Vice President Dick Cheney -- who ran Halliburton in the 1990s -- was under investigation.
"If the summary of our legal opinion favors a sustainable charge, we will go ahead according to plan," commission spokesman Femi Babafemi said. "It is on our plate to prosecute all those found liable in the Halliburton bribery case."
The investigation is part of a long-running case involving Halliburton and a subsidiary firm, Kellogg, Brown and Root, over alleged bribes paid to Nigerian officials to secure $6 billion worth of contracts for a liquefied natural gas project in the Niger Delta.
The bribes allegedly amounted to $180 million between 1994 and 2004.
Kellogg, Brown and Root was one of four large international construction firms that built the natural gas plant.
The firm pleaded guilty in the United States last year and, together with Halliburton, reportedly reached a settlement of $579 million.
Investigations in Nigeria, however, have been ongoing, and there are allegations the bribes went all the way to the top, to aides, officials, and possibly then-President Olusegun Obasanjo.
Despite reports by media outlets that Nigerian officials plan to charge Cheney specifically, an attorney for the former vice president said there is no reason to suspect his client is guilty.
"This matter involves the activities of an international four-company joint venture (which included KBR, then a subsidiary of Halliburton) well over a decade ago," said attorney Terrence O'Connell. "The Department of Justice and the Securities and Exchange Commission investigated that joint venture extensively and found no suggestion of any impropriety by Dick Cheney in his role of CEO of Halliburton.
"Any suggestion of misconduct on his part, made now, years later, is entirely baseless."
CNN's Christian Purefoy in Lagos, Nigeria, and Sarah Baker in Washington contributed to this report.
FOLLOW THIS TOPIC