STORY HIGHLIGHTS
Berlusconi friend quoted as saying he was "physically and politically weak"
Relations with Putin, Russians questioned
Italian foreign minister decries release of cables
(CNN) -- The partying lifestyle of Italian Prime Minister Silvio Berlusconi had left him "a complete mess" by the fall of 2009, according to a Berlusconi confidant quoted in a U.S. diplomatic cable.
The leaked cable was sent by Ambassador David Thorne on October 27, 2009, and suggested "a growing list of scandals, adverse court decisions and health issues have weakened him; and led some erstwhile Berlusconi allies to begin hedging their bets on his political longevity."
The cable quoted a senior Italian official as saying that Berlusconi was "physically and politically weak." And it said that a longtime Berlusconi friend, Giampiero Cantoni, had told a U.S. diplomat that, "We are all worried about his health" and that his recent medical tests had come back "a complete mess."
The cable continues: "Cantoni said Berlusconi's frequent late nights and penchant for partying hard mean he does not get sufficient rest. (Note: Berlusconi dozed off briefly during the Ambassador's initial courtesy call in September and looked distracted and tired at an October 19 event attended by the Ambassador. End note.)"
Cantoni is also quoted in the cable as saying that Berlusconi was "overwhelmed with private concerns," including a bitter divorce from his wife Veronica Lario, who had published an open letter months earlier accusing the 74-year old PM of consorting with minors. Berlusconi denied any improper behavior.
Cantoni has denied making the remarks attributed to him. In a statement, he said: "It is not my habit to repeat gossip or hearsay that appear on the media and that clearly go towards feeding geopolitical analysis which by itself lacks of strategic and valid documentation." He said his name might have been used as "one of the closest collaborators of Berlusconi in order to give value to that which has no value."
The same cable also says that: "Separately, on October 21, Northern League leader Umberto Bossi, commenting on Berlusconi's troubles, told the Ambassador that organized crime figures had probably set the trap for Berlusconi on some of the sex scandals."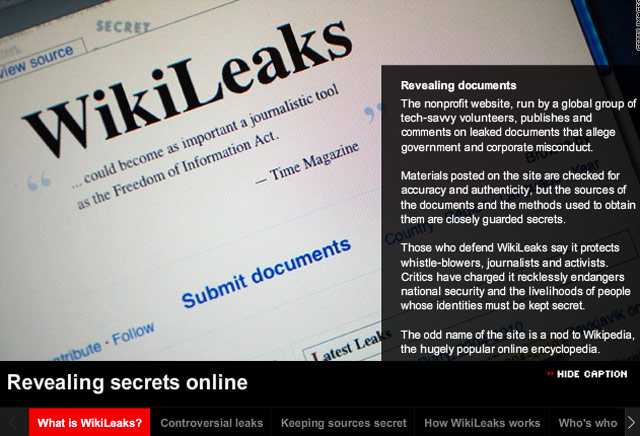 WikiLeaks 101: Exposing secrets online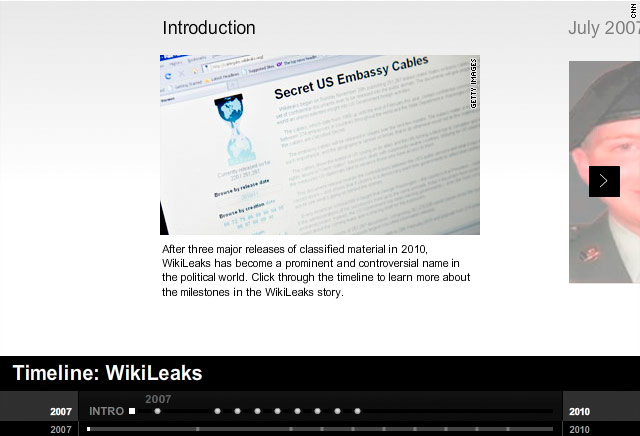 WikiLeaks timline: 2007 to present
CNN has reached out to Bossi for comment.
According to this and other cables, the U.S. Embassy spent some time analyzing Berlusconi's relationship with Russian Prime Minister Vladimir Putin.
It noted that ahead of a visit to Russia for Putin's birthday in October 2009 Berlusconi put out a press line that the visit was a "strictly private affair." This announcement was met with disbelief and some mockery.
"Italy's political class openly questioned whether Berlusconi was going to Russia principally because the scrutiny of his private time by Italian and foreign photographers had made parties in Italy too risky for the time being."
Another cable written in May 2009 noted "Putin's family spending long visits at the Berlusconi family mansion in Sardinia at Berlusconi's expense."
In a cable written in November 2008, it was noted that "many (including his own party officials) suspect he has a personally and financially enriching relationship" with Russian politicians. And one leaked cable cited the view of the Georgian ambassador in Rome as claiming that Berlusconi had profited from Italian-Russian gas deals in return for his support for the Russian side in its confrontation with Georgia.
On a visit to Kazakhstan Wednesday, Berlusconi rejected the accusation. "The United States knows very well that I have absolutely no interest with no other country, that there (is) absolutely no personal interest and that I only look after the interest of the Italians and of my country," he said.
Overall, the leaked cables suggest a frustrating and unpredictable relationship with Berlusconi. When the Italian Prime Minister accused Washington of "provoking" Moscow by recognizing the independence of Kosovo, an Italian official visited the U.S. Embassy to "clarify" his remarks. A cable from the embassy said the official "took back a terse message to the FM that such comments risk substantial and lasting damage to Italy's credibility in Washington."
"Berlusconi was losing credibility for Italy as a reliable partner, which he could ill afford to do," the cable added.
Italian officials have reacted angrily to the leaking of the cables. Before they were released Italian Foreign Minister Franco Frattini said the release of the cables would "blow up the relationship of trust between states."
"It will be the September 11th of world diplomacy," Frattini said Sunday. But he added : "I reaffirm once again that our friendship with the United States of America remains absolutely untouched by these documents."
FOLLOW THIS TOPIC