'Small, meek' Belgium boosted in Guantanamo charm offensive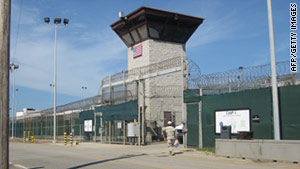 The U.S. government is struggling to find countries willing to re-settle Guantanamo Bay detainees.
STORY HIGHLIGHTS
Diplomatic cables show unique U.S. approach to Belgium
U.S. wants Belgium to take more Guantanamo detainees
Cable suggests "Belgium stepping forward from the chorus line and up to the footlights on Guantanamo"
London, England (CNN) -- The Obama administration's attempts to find countries prepared to re-settle Guantanamo Bay detainees crop up in many of the diplomatic cables published by WikiLeaks.
And the approach taken by U.S. officials working overseas is custom-tailored for each country.
Take efforts to persuade Belgium, for instance. Politically crippled by an apparently intractable north-south divide, it is a country struggling profoundly with its sense of identity. And that offered diplomats an apparent opening:
"For the past few months, Embassy Brussels has been working to set the stage for a change in Belgium's self-concept as a small, meek country living in the shadow of France and Germany, to a country that can show leadership in Europe in spite of stretched financial and material resources."
The cable, dispatched on November 24th, 2009, goes on:

Where is the WikiLeaks founder?
"We have ... begun to suggest the possibility of Belgium stepping forward from the chorus line and up to the footlights on Guantanamo. Helping solve the USG's (United States Government's) -- and Europe's -- problem with Guantanamo is a low-cost way for Belgium to attain prominence in Europe."
The cable notes that Belgium had so far re-settled one former inmate but suggests this could be the first of many: "The time is right to ask Belgium to take more than a handful of detainees."
The cable is addressed to Secretary of State, Hillary Clinton, who was due in Belgium less than two weeks later. Advice is offered on how she might steer the conversation with her hosts.
"There are signs that Belgium's reticence (in world affairs) is beginning to chafe its leadership. Complaints about Belgium's exclusion from G-20 membership, and opposition to perceived influence of a 'directoire' of large countries in the EU are examples. It is a matter of convincing Belgium that not only does it have self-interest in a more assertive role, but it also has a uniquely trusted character within Europe that permits it to be effective."
FOLLOW THIS TOPIC


Part of complete coverage on

What next for WikiLeaks editor and founder Julian Assange, now that he's been released on bail in the UK?

Julian Assange says the sexual misconduct charges against him are little more than an effort to discredit him and his organization.

WikiLeaks editor walks out of London court after being freed on bail nine days after being arrested for questioning about alleged sex crimes in Sweden.

In 2006, Julian Assange was apparently looking for a date. After launching WikiLeaks, he evidently created a profile on OkCupid.com.

A court in London found itself in the world's spotlight, as a small army of celebrities turned up to offer support -- and bail money -- to Julian Assange.

The founders of Openleaks.org say they are former WikiLeaks members unhappy with the way the organization is being run under Julian Assange.

Hackers who support WikiLeaks want others to replicate the attacks they say took down the websites of MasterCard and Visa.

Does Julian Assange's threat to release "Doomsday Files" from Wikileaks carry validity?


Most popular stories right now