Last chance to own a Madoff yacht
STORY HIGHLIGHTS
Madoff's custom-built "Bull" Leopard superyacht is on the market
The 89-foot boat had a list price of €6 million when Madoff bought it in 2007
Madoff was particular about keeping the yacht clean, according to yacht broker
The sport yacht is being sold on behalf of liquidators of Madoff's UK business
London, England (CNN) -- Fraudster Bernie Madoff's possessions have gradually been sold off to pay back his victims, but one of his luxury belongings is still for sale.
Madoff's Italian-crafted superyacht, which was made to his unique specification, is lying off the coast of Spain, awaiting a buyer.
The custom-made 89-foot Leopard yacht, "Bull," is the only boat connected to Madoff that hasn't been sold off yet, according to Wyles Hardy, the British yacht broker handling the sale.
The boat was seized after Madoff's Ponzi scheme imploded, but a legal tussle ensued. Those issues have been resolved, Wyles Hardy said, and now the broker is handling the sale for Grant Thornton, the liquidators of Madoff's UK business.
The yacht, which is being sold through private negotiation and contract rather than public auction, underwent a full maintenance in August.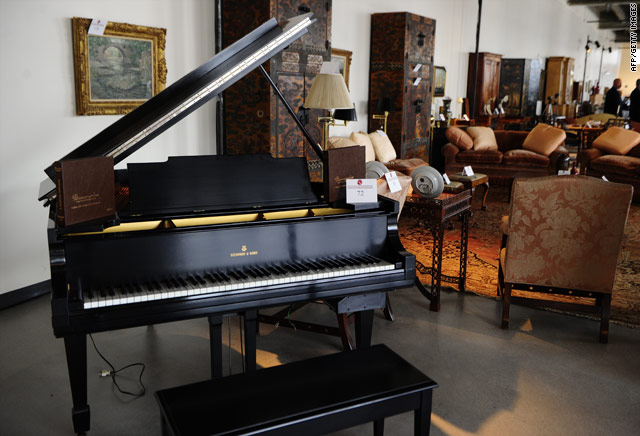 Gallery: Bernie Madoff auction
Currently docked in Gibraltar, it's ready for immediate use, said Gordon Wyles of Wyles Hardy.
"She's ready to go. Mr. Madoff's original captain is on board, looking after her and tending to her," he told CNN.
Madoff, the convicted schemer of the largest Ponzi scam ever, is serving a 150-year sentence in a federal prison outside of Raleigh, N.C.
The sale of his assets has been a drawn out affair. U.S. Marshals auctioned three Madoff boats last year. Their sale raised more than $1 million.
Last month, nearly more than 500 of Madoff's personal items -- including a diamond engagement ring and grand piano -- were auctioned for more than $2 million.
The six-berth "Bull" was bought by Madoff Securities International Ltd in 2007. It had a list price of €6 million ($7.8 million) when it was purchased, although Wyles said, Madoff likely got a discount.
Madoff was particular about keeping this yacht clean, according to Wyles Hardy. Madoff ordered carpet over carpet and didn't allow food on board at any stage.
With its 42-knot capability, it's an "incredibly fast machine," Wyles said. He declined to estimate how much the sport yacht would end up selling for.
Several parties have expressed interest in owning the vessel, he told CNN, adding that there seems to be particular interest in the "intriguing charter opportunities" that may be available to owners when they're not using it.
FOLLOW THIS TOPIC