STORY HIGHLIGHTS
Kate Middleton is set to follow in footsteps of Diana, Princess of Wales as a royal style icon
Katie Nicholl, Mail on Sunday: "Aesthetically she's not dissimilar from Diana"
Middleton favors Brazilian-born designer, Issa, and is having a couture wardrobe made
Middleton's choices influence the public: One high-street dress she wore sold out in 24 hours
London, England (CNN) -- As she posed with William Tuesday showing off Princess Diana's engagement ring, Kate Middleton looked every inch a style icon in the making.
Wearing an understated blue Issa dress, the bride-to-be seemed to send a signal that she is ready to join the elite ranks of the world's most stylish royals.
Princess Grace of Monaco was famed for her elegance in Christian Dior, while today Queen Rania of Jordan and Spain's Letizia, Princess of Asturias are among those royals regularly hailed by the global press for their style and beauty.
Comparisons with William's mother, the late Princess of Wales, a style icon who favored wearing Versace, are also inevitable.
"She's tall, she's slim, although she's dark, aesthetically she's not dissimilar from Diana," Katie Nicholl, royal correspondent for UK newspaper The Mail on Sunday, told CNN.
"She is following in Diana's footsteps as a style icon," added Nicholl who is also author of "William & Harry: Behind the Palace Walls."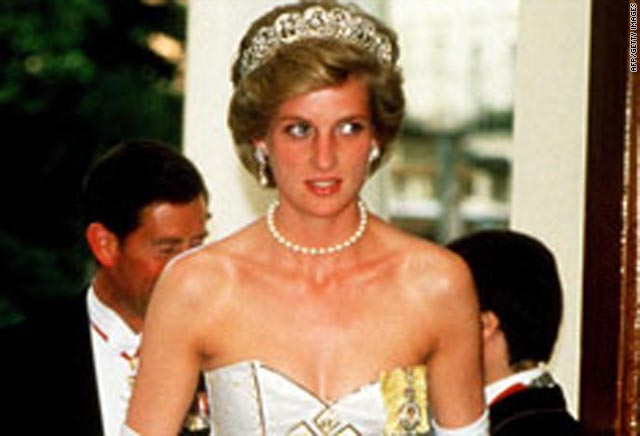 Gallery: World's most stylish princesses
Issa, by Brazilian-born designer Daniella Helayel, is among Middleton's favorite labels, said Nicholl. "Kate loves the simplicity. She loves her style. Kate's said that Daniella's saved her from many potential wardrobe disasters," Nicholl added.
Not that Middleton has many wardrobe malfunctions these days: She made People magazine's "Best Dressed" list earlier this year and in 2008 featured in Vanity Fair's "International Best Dressed" list alongside Michelle Obama and Carla Sarkozy-Bruni.
"She dresses exactly how she should, which is wonderful," Emilie McMeekan, Deputy Editor of UK society magazine Tatler, told CNN. "Unbelievably appropriate, she's not fashion forward but she's not behind either."
And this despite not coming from the same upper crust background as Diana.
Eve Pollard, former editor of UK tabloid the Sunday Mirror, told CNN, "I think what's interesting about Kate, she brings beauty, she brings youth and of course she comes from a middle class family, who made their own money.

Who is Kate Middleton?
I don't think she's ever been frumpy. She's far too elegant and slender to be frumpy.
--Katie Nicholl, Royal Correspondent, The Mail on Sunday
"She's not an aristocrat, she's not from the top drawer as Diana was," Pollard continued. "But she is a very egalitarian future princess."
That's reflected in her clothes choices, too. Middleton has been photographed wearing UK high-street brands such as Topshop and Jigsaw -- where she worked as an accessories buyer after graduating from university.
Her choices have also been known to influence the public: When she stepped out in a flirty little monochrome dress from Topshop on her 25th birthday in 2007, the dress sold out in 24 hours, a Topshop spokesman confirmed.
Middleton has come a long way from her student days, when she famously modeled a sheer black dress at a student fashion show that showed off her underwear -- an image which has since been splashed across the British tabloids.
It's an example of some of the less kind things said in the British press about her fashion sense over the years. But most notably, she's been given a hard time for her sometimes conservative dress choices.
"Kate Middleton has slotted herself into the Windsor world just marvelously by dressing like a 45-year-old, from her bias-cut knee-length tweed skirt to her jaunty little beret," wrote The Guardian's Hadley Freeman in 2008.
Nicholl disagrees. "I don't think she's ever been frumpy," she told CNN. "She's far too elegant and slender ... but she has tended to go down the 'Sloane Ranger' look (a casual country look favored by the UK's upper classes)."
McMeekan, for her part, says that while Kate's "never been brave" with her fashion choices, she doesn't have to be.
But according to Nicholl, Middleton has been more experimental of late. She traces this back to 2007, when Middleton and William temporarily split.
"It was a very clear signal to William: 'Look at what you're missing' and, actually, from that moment on we saw her stepping out in more and more daring outfits," Nicholl said.
"And she's experimented with color, she's experimented with higher hemlines, lower plunging necklines and she looks fantastic," she added.
Indeed, Kate's enviable figure means she's a natural clothes horse.
"She's got such a good body," McKeekan said, that she can "pull something on and look immaculate."
Which is lucky, because the world will be watching Middleton intensely after the announcement.
"She may get herself a personal stylist," speculated Charlotte Moore, Deputy Editor of Marie Claire magazine. "Who wouldn't if you were being followed everywhere by the press?"
Nicholl says that Middleton is now having a couture wardrobe made for her by Issa. "Each dress from Issa costs anything between £400 ($650) and £600 ($950)," she told CNN. "If you're couture making it ... you can pretty much double that."
Designers are also queuing up to create Kate's wedding dress, with several including Julien Macdonald and Bruce Oldfield commenting on British Vogue's website about what they would like to see her wear.
As for how her wardrobe might evolve, McMeekan thinks we are unlikely to see a radical style shift.
"One of (Kate') great gifts is her unbelievable discretion and loyalty and I think that's reflected," she said. "You know she's never going to be wearing anything very low-cut or too short, and I think we'll see an evolution of a very grown-up, elegant wardrobe."
Laura Allsop contributed to this report.
FOLLOW THIS TOPIC