Sinn Fein leader heads south to run for Irish parliament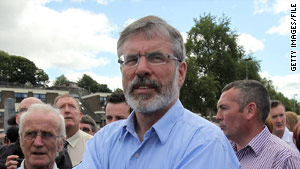 Sinn Fein leader Gerry Adams, seen in a June photo, plans to run for parliament in the Irish Republic.
STORY HIGHLIGHTS
Gerry Adams blasts Ireland's austerity measures
Sinn Fein needs to lead a "political realignment" in the south, he says
(CNN) -- Longtime Sinn Fein leader Gerry Adams announced Sunday that he's leaving Northern Ireland politics to run for parliament in the Irish Republic, blasting what he called the current Irish government's "deeply damaging" economic policy.
Adams said he will relinquish his seat in Northern Ireland's Legislative Assembly to run for a seat in the Dail from Ireland's County Louth. Sinn Fein holds seats in both bodies, and has become "the only effective opposition" to the austerity program of Irish Prime Minister Brian Cowen's government, Adams said in announcing his decision.
"We need more voices that will stand up against the consensus for cuts -- more voices that will stand up for ordinary people," he said. "We need new politics. We need a political realignment. A change of government without a change in policies will be worthless."
Ireland has been particularly hard-hit by the global economic crisis of recent years. Its economy has contracted sharply and its government has been left deeply in debt, leading Cowen to push for tax increases and cuts in public payrolls and health services along with other spending reductions.
Adams said the government "is now implementing bad, deeply damaging policies," and the leading opposition parties "are part of the consensus for cuts."
Sinn Fein supports the reunion of British-ruled Northern Ireland with the rest of the island, which won independence in 1921. It holds four seats in the Dail, the Irish Republic's 166-seat parliament.
Adams also holds a seat in the British Parliament, but has refused to take the required oath to Queen Elizabeth II to be seated at Westminster. He said Sunday that he won't run for re-election when his current term is up.
FOLLOW THIS TOPIC