France welcomes survivors of Baghdad church attack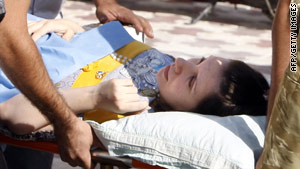 An Iraqi Christian woman is taken from hospital to be flown to Paris.
STORY HIGHLIGHTS
Some of the survivors are suffering from bullet and grenade wounds
Another group of 93 Iraqis is scheduled to arrive in the coming weeks
They are being welcomed as part of a program for "vulnerable religious minorities"
The number of Christians in Iraq is dwindling
Paris, France (CNN) -- About three dozen survivors of last month's brutal attack on a Baghdad church have found refuge in France, where they have been given temporary status as asylum seekers.
The 35 Iraqis, many of them with bullet and grenade wounds, arrived by plane in Paris on Monday night and were taken by ambulance to hospitals. Another group of 93 people is scheduled to arrive in the coming weeks, France's immigration ministry said.
French Immigration Minister Eric Besson said France was offering refuge to 150 victims of the attack as a gesture of friendship and support to Christians who face hardships.
"France supports their desire to remain and live in peace on their land, where they have lived for centuries," Besson said.
They will be issued a long-stay, renewable visa by the French Embassy in Baghdad, health coverage and a permit that allows them to work for at least six months. Besson said the government will help the Iraqis find jobs.

Dramatic video from inside church attack
A group called the Islamic State of Iraq claimed responsibility for the gruesome October 31 siege of the Sayidat al-Nejat cathedral that left 70 people dead and 75 wounded. The umbrella group includes a number of Sunni extremist organizations and has ties to al Qaeda in Iraq.
Among the dead were women, children and two priests. It was one of the worst attacks against Iraq's dwindling Christian minority in recent years.
"It was five hours of terror, five hours where we didn't know whether we were going to live or die," said one of the survivors after arriving in Paris.
Christians were once believed to have been a community of almost 1.5 million people in Iraq. But as many as half have fled the country since the war began in 2003.
Syriac Orthodox Archbishop Athanasios Dawood in Britain has criticized the Iraqi government for failing to protect its minorities and has urged Iraqi Christians to flee their homeland.
"I say clearly and now -- the Christian people should leave their beloved land of our ancestors and escape the premeditated ethnic cleansing. This is better than having them killed one by one," said Dawood, according to prepared remarks he sent to CNN.
The latest church attack victims are being welcomed as part of a French government program for Iraqis belonging to "vulnerable religious minorities," Besson said.
Since the program began in 2007, he said, France has welcomed 1,300 people under its auspices.
FOLLOW THIS TOPIC