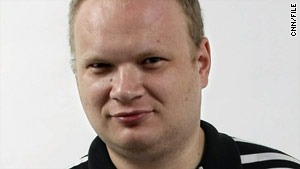 On Saturday, video surfaced online showing the near-fatal beating of journalist Oleg Kashin in Moscow.
STORY HIGHLIGHTS
NEW: First journalist is in medically induced coma with broken skull, other fractures
A newspaper reporter is the second to be beaten in two days
Anatoly Adamchuk was attacked by men outside his newspaper's office
Oleg Kashin was attacked Saturday
(CNN) -- A newspaper reporter was severely beaten on Monday, making him the second Russian journalist in two days to be attacked by unidentified assailants.
Anatoly Adamchuk was attacked by men outside his newspaper's office and was being treated for head trauma at a hospital, according to colleagues at the Zhukovskie Vesti newspaper where he is employed. The paper is based in Zhukovsky, just outside Moscow.
On Saturday, a graphic video surfaced online showing the near-fatal beating of journalist Oleg Kashin outside a Moscow apartment building. Kashin is a political correspondent for Kommersant, an independent business daily.
Both journalists had been investigating controversial government plans to build a road through pristine forests northwest of Moscow.
Kashin's wife, Yevgeniya Milova, told the independent Interfax news agency that Kashin's condition was "steadily critical" after he was admitted to a hospital with multiple fractures and a concussion.
Russia's state-run Itar-Tass news agency said the attackers waited for Kashin near his home holding flowers.

Moscow reporter savagely beaten
"Neither money, nor other valuable things have been reported stolen from [Kashin]," the agency reported.
Two unidentified men attacked Kashin, 30, as he was returning home from a Moscow cafe around 1 a.m. Saturday, according to the Committee to Protect Journalists' summary of local and international news reports.
The assailants struck him repeatedly with a heavy object, possibly a metal bar, according to press reports. The Moscow-based news website Lifenews, published a video of the attack that was taken by a nearby surveillance camera, the committee said.
The attackers fled the scene after a neighbor arrived on the street, Kommersant reported. Kashin was hospitalized with a broken skull, jaw, fingers, and leg; he remained in a medically induced coma Monday, the New York-based, internationally focused journalists' committee said.
Kashin reported on a contentious highway project that would go through a forest in the Moscow suburb of Khimki, and his reporting had drawn threats from the pro-Kremlin youth group Molodaya Gvardiya (Young Guards).
In August, after Kashin reported on anti-highway protests, Molodaya Gvardiya published a column on its website headlined "Journalist-Betrayers Should Be Punished" along with an image of Kashin that was stamped, "He will be punished." The column was removed by Saturday; Molodaya Gvardiya said it was not responsible for the attack. Kashin had also recently criticized the governor of Pskov Region, Andrei Turchak, on his personal blog.
On Saturday, Russian President Dmitry Medvedev condemned the attack on Kashin and ordered Prosecutor General Yuri Chaika and Interior Minister Rashid Nurgaliyev to bring the assailants to justice, the journalists' committee said. Russia's Investigative Committee, the nation's top criminal investigative agency, opened a probe.
According to Committee to Protect Journalists reports, 52 journalists have been murdered in Russia since 1992 in attacks directly related to their assignments, making it one of the world's most dangerous nations for reporters.
"We are outraged by the recent attacks on Oleg Kashin and Anatoly Adamchuk and call on Russian law enforcement to investigate every possible lead and question all possible suspects, regardless of their rank and position," the committee's Europe and Central Asia program coordinator Nina Ognianova said in a statement Monday. "No one must be considered above the law in Russia. All of the perpetrators must answer before a court of law and be punished for these brutal crimes."
Although authorities have not pinpointed motives in the attacks, the reports revived memories of a 2008 episode in which assailants savagely beat a newspaper editor, Mikhail Beketov, who had campaigned against a Khimki highway project, the journalists' committee said.