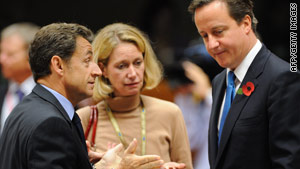 French President Nicolas Sarkozy (left) and British PM David Cameron were expected to sign the deal.
STORY HIGHLIGHTS
Cameron and Sarkozy signed the treaty Tuesday
It would see closer cooperation by their militaries
A second treaty would also see close nuclear cooperation
London, England (CNN) -- The leaders of Britain and France signed a groundbreaking treaty on defense cooperation Tuesday that would combine many elements of their militaries, British Prime Minister David Cameron announced.
The treaty would include changing the design of some aircraft carriers to allow both British and French planes to land, holding joint training exercises, and cooperating on unmanned aerial systems.
A second treaty would see the two countries engage in nuclear cooperation, including building new testing facilities.
"This is not, as some have suggested, about weakening or pooling British or French sovereignty," Cameron said after the signing. "This is not about a European army. This is not about sharing our nuclear deterrents.
"Let me say this plainly -- Britain and France are and will always remain sovereign nations, able to deploy our armed forces independently and in our national interests when we choose to do so," Cameron said.
The prime minister said military cooperation is now the norm, pointing out Britain has deployed its army alone only twice in recent decades -- in Sierra Leone in 2000 and during the Falklands War in 1982.
We're looking to see where in our defense industries we can have better cooperation so that we're getting value for money in research and development.
--Liam Fox
"Britain and France are natural partners in security and defense," Cameron said.
The treaties come two weeks after the British government announced deep cuts to the defense budget, with the armed forces losing 10 percent of uniformed personnel in the next five years.
Many of the steps in the defense treaty are designed to save money, such as cooperation on future military satellite communications, and a plan to use spare capacity on each country's aircraft for air-to-air refueling or military transport.
The treaty calls for bilateral cooperation in operations and training, equipment, unmanned air systems, the defense industry, and research and development, Cameron said.
Among other initiatives, Britain and France will create a combined joint expeditionary force suitable for a range of scenarios, including "high-intensity operations," Cameron said. The force will begin combined air and land exercises next year.
Britain will convert a future aircraft carrier to enable French aircraft to use it, and the two countries will aim to have an integrated carrier strike group able to deploy by the early 2020s, Cameron said.
There will be a bilateral support plan and training group for future fleets of Airbus Military aircraft. The two countries will also work together to develop equipment and technologies for a new generation of nuclear submarines as well as the next generation of unmanned air systems, which Cameron said have become essential for their armed forces.
British Defense Secretary Liam Fox said Britain and France together are responsible for 50 percent of all defense spending and 65 percent of all research and development spending within the European Union.
Britain is open to the defense treaty because it is being made directly with France, not under broad orders from the European Union, Fox said.
The treaties require further ratification in France before becoming law, a Ministry of Defence spokeswoman said.
FOLLOW THIS TOPIC