Russian police raid Lebedev-owned bank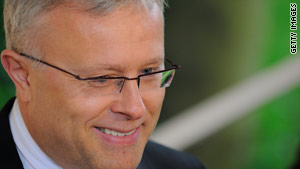 Alexander Lebedev;s National Reserve Corporation owns a 78-percent stake in the bank.
STORY HIGHLIGHTS
Investigators were backed by armed, masked security officials
A bank spokesman says it was a "display of force"
Lebedev is a Russian billionaire who owns several newspapers
Moscow, Russia (CNN) -- Moscow police investigators backed by masked, armed security officials raided a bank owned by Russian billionaire Alexander Lebedev Tuesday, a bank spokesman and Russian news agencies said.
The masked men were armed with machine guns when they arrived with investigators for the unscheduled raid, said Artyom Artyomov, a spokesman for Russia's National Reserve Bank. The masked men later left but investigators stayed behind to study documents, he told CNN.
"We were not so much surprised to see investigators who came here with no prior notice, because those kinds of things are happening quite often in Russia. But we were really surprised by the manner in which is was conducted -- I mean this display of force," Artyomov said.
Masked gunmen, representing the government, are often used in various raids against businesses.
Police spokesman Viktor Biryukov told the Interfax news agency the investigation was part of a probe into an "earlier opened criminal case." He did not name any suspects.
Interfax reported that a statement from the National Reserve Bank said the raid was connected to operations by one of the bank's clients in 2008 and had nothing to do with the bank's current operations.
The RIA Novosti news agency reported the bank spokesman said police were seizing documents from the bank, in which Lebedev's National Reserve Corporation owns a 78-percent stake.
Lebedev, a former KGB agent, owns two newspapers in Britain, the London Evening Standard and The Independent. He also owns the independent Russian newspaper Novaya Gazeta.
CNN's Maxim Tkachenko contributed to this report.
FOLLOW THIS TOPIC