Kosovo no-confidence vote paves way for elections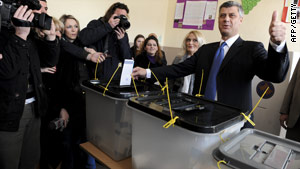 Hashim Thaci casts his ballot at a polling station in the capital Pristina on November 15, 2009.
STORY HIGHLIGHTS
Snap elections have to be called soon
The crisis may affect Serbia, Kosovo talks
Pristina, Kosovo (CNN) -- A no-confidence vote in Kosovo's parliament brought down Prime Minister Hashim Thaci's government Tuesday and paved the way for snap elections.
More than half of the 120 lawmakers voted for the measure, initiated by the Alliance New Kosovo.
Kosovo's constitution says snap elections have to be called within 45 days under such a circumstance.
The acting president, Jakup Krasniqi, will have to set a date for the polls.
The political turmoil in Kosovo comes after the Constitutional Court ruled that former President Fatmir Sejdiu violated the constitution by holding two posts at the same time, that of the president and the leader of his party.
The political crisis may affect European Union-sponsored talks between Kosovo and Serbia, which does not recognize Kosovo's independence. Serbia agreed to talks with Kosovo after international pressure.
U.S. Secretary of State Hillary Clinton urged both sides to start negotiations during recent visits to Pristina and Belgrade -- the capitals of Kosovo and Serbia, respectively.
Kosovo declared its independence in February 2008, nearly a decade after NATO bombings against Serbia in 1999 ended the deadly campaign against ethnic Albanians in Kosovo.
Since independence, Kosovo has been recognized by 70 countries, including the United States and most European Union member states.
FOLLOW THIS TOPIC