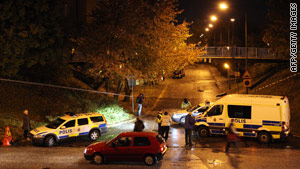 Police secure the area where two immigrant women where shot through an apartment window on October 21.
STORY HIGHLIGHTS
NEW: 1 dead, 8 wounded in 19 shootings
Local gangs are also reportedly looking for the unknown gunman
He seems to be targeting immigrants in a city where 1 out of 3 people is foreign-born
100 police officers are on the case
(CNN) -- The person behind a string of unsolved shootings in Malmo, Sweden, is probably a man between 20 and 40 years old who gets around on a bicycle and knows the city reasonably well, police said Tuesday.
"What triggers him is the actual shooting -- he doesn't want to play 'cat and mouse' with us. He wants to get away," criminal investigator Per Lidehall said at a news conference Tuesday, according to CNN's Swedish affiliate TV4.
Up to 100 officers are now involved in the hunt for the gunman, TV4 reported.
The suspect may be responsible for as many as 19 shootings targeting immigrants, police believe. One person has been killed in the string of shootings and eight have been wounded.
"We started looking from October last year, but it is also very possible that the perpetrator was active even before that," lead investigator Borje Sjoholm said at a news conference Monday.
They are reportedly not the only ones looking for him.
Several groups have said that they are trying to hunt down the shooter before police, according to TV4.

Video: Serial shooter In Sweden
One former gang leader, identified by the regional daily Sydsvenskan as "Leo," said the shooter "can only hope that we don't find him first."
He says that he and his friends are patrolling the city's streets, looking for the gunman.
"We know this area, we have a much higher probability of finding him than police," he said.
Police do not have confirmation that there are criminal gangs looking for the shooter, but said Monday that if that was the case, they were against it.
"We don't appreciate when people take the law into their own hands," said deputy police chief Asa Palmqvist, according to the Swedish daily Svenska Dagbladet.
Police are also investigating DNA found at one of the shootings this weekend, "but we won't know the result of that for still some time," police spokeswoman Sofie Osterheim told CNN.
Cell-phone traffic at the time of the shootings will also be examined for any additional clues, TV4 reported.
A local councilor representing the Sweden Democrats, the far-right anti-immigration party that recently was elected into the Swedish parliament, announced Monday that the party is offering a reward to whoever can give police information about the shooter's identity.
What triggers him is the actual shooting -- he doesn't want to play 'cat and mouse' with us. He wants to get away.
--Per Lidehall
The reward is 25,000 Swedish kronor, equal to about $3,700.
"No other question is more important to us Sweden Democrats than for ordinary people who behave to be able to feel safe in their homes and on our streets," Per Ramhorn, a local Sweden Democrats politician, said in a statement printed in Swedish media outlets.
The first shooting of the weekend occurred late Saturday when someone fired a bullet into a small store in central Malmo, police spokesman Calle Persson said Sunday.
The second shooting was reported around midnight after a family alerted police to a window being shot, he said.
Both the shopkeeper and the family are immigrants living in the city.
Nobody was injured in the most recent incidents.
On Sunday, police said at least 15 shootings in Malmo over the past year might be linked to one shooter, who is believed to have been using a handgun.
Sydsvenskan cited police reports that said at least five shootings can be tied to the same weapon.
The shootings have all been well-planned, under the protection of darkness and at places familiar to the shooter, TV4 reported, citing police.
Several of the shootings in Malmo have occurred in recent weeks, police said. However, the first in the series is believed to be an October 2009 shooting that killed a 20-year-old woman, Hans Nilsson, a Malmo police superintendent, told CNN.
"We haven't seen this kind of violence before, specifically targeting immigrants," he added.
Two immigrant women were wounded Thursday evening by gunfire that went through their apartment window.
"I'm almost afraid of turning on the light in my apartment at night now," Shukrije Berisha, who lives in the same building, told Svenska Dagbladet.
In similar incidents, two men of an "ethnic minority background" recently were shot while waiting at bus stops, according to police.
One of them "was lucky to be alive after being shot in the torso," Nilsson said.
"The shooter was most likely waiting in the bushes before firing his weapon," he said.
Basi Hassan, one of the bus stop victims, told TV4, "I was standing here at the bus stop when I suddenly heard a shot. I don't know where it came from. Then I saw my own blood and I started feeling dizzy."
The Swedish National Murder Commission and Swedish National Criminal Police have launched a major operation, together with local police, to find the gunman.
A group of psychologists is working to establish a profile of the shooter's behavior before, during and after the shootings.
Police also have increased the number of officers and K-9 units patrolling the city.
In Malmo, where nearly one-third of the residents are immigrants, many now fear for their safety. One 17-year-old girl, identified only as Fatima, told TV4 she doesn't go to school by bicycle or bus but will travel only by car.
"I couldn't sleep last night. I just couldn't stop thinking about it," she said.
The recent slew of shootings also has prompted a cell-phone text message that has circulated among Malmo's youth.
According to Nilsson, the text states: "A killer is loose in Malmo so stay indoors."
"We are very clear that we are not behind this text message, but we can also understand that people are worried," he said.
FOLLOW THIS TOPIC