France seeks extradition of al Qaeda suspect in Italy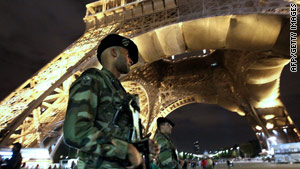 French Army soldiers patrol near the Eiffel Tower in Paris as Europe remained on alert for a possible al Qaeda attack.
STORY HIGHLIGHTS
A French man of Algerian origin was arrested on suspicion of being a member of the group
He was detained about a month ago in Naples on a warrant requested by France
Source: The arrest is not linked to the new security concerns across Europe
Paris, France (CNN) -- France has requested the extradition of an al Qaeda suspect arrested in Italy, a French court official said Monday.
Didier Allard of the Palais de Justice appeals court identified the man as Riahd Hennouni, and said an anti-terror judge in Paris had requested his arrest.
Paris has not yet heard back from Rome about its extradition request, Allard said.
The request comes a day after Italian police told CNN they detained a French citizen of Algerian origin suspected of being a member of al Qaeda.
The man was arrested by Italian police in Naples following a European arrest warrant requested by France, Naples chief prosecutor Gian Domenico Lepore told CNN.
He was arrested "about a month ago," but there was no announcement at the time, Lepore said, adding: "We don't report every arrest that we make."
The Italians say he is 28. The French say he is 34.
News of the arrest coincides with heightened security concerns across Europe after news emerged last week that Western intelligence officials were looking at information about a possible "Mumbai-style" attack in cities across the continent.
However, a source familiar with the arrest of the Algerian said the man was not connected to last week's news, and that police in Naples have been investigating him for some time.
CNN's Winnie Andrews in Paris and Hada Messia in Rome, Italy, contributed to this report.
FOLLOW THIS TOPIC