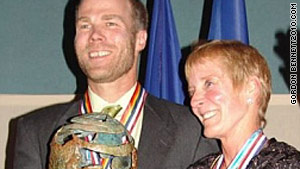 Richard Abruzzo and Carol Rymer-Davis won the Gordon Bennett race in 2004.
STORY HIGHLIGHTS
Data shows the balloon descended rapidly; survival 'unlikely'
Race officials call the case a "tragedy"
Officials don't see evidence of the balloon in debris
Rome, Italy (CNN) -- The search for two Americans who went missing during an international gas-balloon race continued Saturday as an underwater robot joined in the pursuit.
Race organizers said Friday a balloon carrying Richard Abruzzo of New Mexico and Dr. Carol Rymer-Davis of Colorado over the Adriatic Sea near Italy made a rapid descent during rough weather, conditions which would make their survival "unlikely."
"This is very pessimistic information," says the statement from the race organization -- Coupe Aeronautique Gordon Bennett.
Race officials from the competition said they lost contact with the balloon as it was over the sea shortly after 8 a.m. local time (2 a.m. ET) Wednesday.
Croatian boats have started searching Croatian waters, and an underwater coastal guard unit equipped with an underwater robot is conducting a search, said Italian Coast Guard Warrant Officer Massimo Maccheroni.
Officials looked at transponder readings from air traffic control and made calculations from the height of the balloon, the time and its location, said flight director Don Cameron. The data showed the balloon had a "moderate descent rate initially which then increased into a high rate of descent, to around 50 miles per hour."
"It is the opinion of the Gordon Bennett 2010 Flight Control Team that the balloon appears to have suffered a sudden and unexpected failure," the statement read. "The cause of this tragedy is still being examined."
It asked that the families not be contacted.
We've had other challenges before, but we've never lost contact for this long.
--Nancy Abruzzo
On Friday, Italian authorities took photos of debris found in the sea and forwarded them.
The pieces of debris are small and one resembles a cord, Maccheroni said. The items were found near the town of Vieste.
Two U.S. aircraft assisted eight Italian vessels and aircraft in the search, which covers 3,600 square miles.
Abruzzo's wife, Nancy, said earlier she was hopeful.
"We've had other challenges before, but we've never lost contact for this long," she said. "But they are smart strong and capable. And they are survivors."
Maccheroni listed three hypotheses on what happened: Lightning struck the balloon and it exploded; the balloon suffered a failure and went down quickly into the ocean; or the balloon dropped slowly, making survivability more likely.
The balloon was equipped with a satellite phone, VHF radios, a radar transponder and two mobile phones, but efforts to contact Abruzzo and Rymer-Davis so far have been unsuccessful.
The balloon also had survival suits, life jackets and two single-person life rafts, according to Cameron.
"We have not found any safety device [lifeboat], and one can last only ... so long at sea without one," Maccheroni said.
The 20-balloon race began last weekend near Bristol, England, with pilots vying to fly the farthest from the start point. The balloons flew over the English Channel and continued south across France, with most of the balloons eventually landing in France or northern Spain.
But six, including the one piloted by Abruzzo and Rymer-Davis, ventured over the Mediterranean. Five of them landed in various European countries Tuesday and Wednesday.
Rymer-Davis is a radiologist in Denver, Colorado, according to CNN affiliate KUSA. She and Abruzzo won the 2004 Gordon Bennett race, which took off that year from France.
CNN's Eileen Hsieh contributed to this report.
FOLLOW THIS TOPIC