Italy's Berlusconi wins confidence vote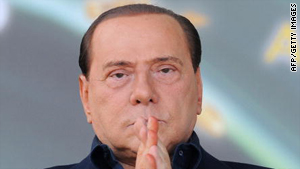 Italian Prime Minister Silvio Berlusconi is set to outline his goals for the rest of his term, which expires in 2013.
STORY HIGHLIGHTS
The Italian prime minister asked parliament to support his plans for the rest of his term
He still has to face the Senate after winning in the lower house
It's the first major test of his strength since 40 lawmakers left his party this summer
Ally-turned rival Gianfranco Fini says he will back governing party's goals
Rome, Italy (CNN) -- Italian Prime Minister Silvio Berlusconi survived a vote of confidence Wednesday, winning majority backing in the lower house of parliament for his plans for the next three years.
A total of 342 lawmakers voted in favor, while 275 opposed Berlusconi.
It was the first major test of strength for him since the summer, when a falling out with a longtime political ally led dozens of lawmakers to leave the governing People of Freedom party (PDL).
Berlusconi will ask the the Senate to back him on Thursday, a vote he is expected to win despite his dispute with Gianfranco Fini, the lower house speaker who, along with Berlusconi, was a co-founder of the PDL. Berlusconi expelled Fini from the PDL earlier this year, and about 40 lawmakers followed Fini out of the party.
However, Fini has said he intends to back the prime minister's goals and programs for the rest of the government's stay, which should give Berlusconi a majority in the confidence votes.
Berlusconi faces a difficult economic picture as he looks ahead to the rest of his term, which expires in 2013.
Italian unemployment is running at 8.5 percent, the highest level since 2003, according to the Italian statistical office, and public debt is 120 percent of the country's gross domestic product, the Bank of Italy says.
FOLLOW THIS TOPIC