Thousands protest Romanian austerity measures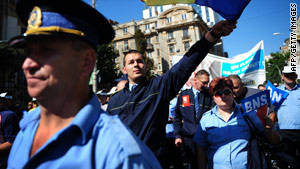 Romanian trade union members shout anti-government slogans in Bucharest.
STORY HIGHLIGHTS
8,000 people rallied in front of a Bucharest government building
They are angry over a cut to state employees' salaries
The demonstrators held signs saying, "No to austerity"
Bucharest, Romania (CNN) -- Thousands of protesters rallied Tuesday in Bucharest over government austerity measures that have cut state salaries.
About 8,000 people demonstrated in front of the main government building, unions and security forces said, and they represented a wide range of sectors.
The protesters were demanding the resignation of Prime Minister Emil Boc and his team for deciding on a 25-percent cut to all state employees' salaries as of July 1. The demonstrators want the money back and also want the government to raise the minimum wage stipulated in the current contracts.
They displayed red cards written with the words, "No to austerity."
A march then took place through the capital so the protesters could express their anger in front of other government ministries.
A delegation of protesters was due to meet Boc and the work minister later Tuesday, at the end of the protests, to discuss their demands, a government spokesman said.
The Bucharest protests were taking place a day before wider demonstrations over government austerity measures in more than a dozen other European countries.
The day of action Wednesday was being organized by the European Trade Union Confederation (ETUC), which includes trade unions from 36 European countries and says it has a total of 60 million members.
The main demonstration was planned for Brussels, Belgium, but a general strike was also planned in Spain, and workers were also expected to strike in Ireland, France, Spain, Portugal, Italy, Cyprus, Serbia, the Czech Republic, Poland, Lithuania, and Latvia, according to ETUC.