In Britain, warning over Irish-related terrorism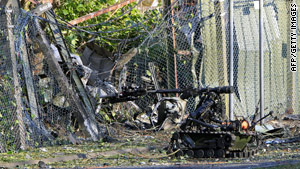 An army robot examines the site of a car bombing in Northern Ireland in April.
STORY HIGHLIGHTS
NEW: MI5 chief has claimed a rise in Northern Irish terrorist activity
Security Service raises threat level to "substantial"
Home secretary announces Irish-related threat assessment
She cites balance in staying alert but not alarmed
London, England (CNN) -- An Irish-related attack against Britain "is a strong possibility," security officials said, raising the terrorist threat level there from moderate to substantial.
"This is the first time we have published the Irish-related threat assessment to Great Britain," Home Secretary Theresa May said. "This is in the interests of transparency and to encourage people to remain vigilant."
Judgments leading to the conclusion of a terror threat "are based on a broad range of factors, including the intent and capabilities of terrorist groups."
"The first and most important duty of government is the protection and security of the British people. We have been consistent in stating that the threat to the UK from terrorism is real and serious. The balance we aim to strike is keeping people alert but not alarmed. I would urge the public to report any suspicious activity to the police and security services in their continuing efforts to discover, track and disrupt terrorist activity," May said.
There are five threat levels in Britain:
-- critical: An attack is expected imminently.
-- severe: An attack is highly likely.
-- substantial: An attack is a strong possibility.
-- moderate: An attack is possible but not likely.
-- low: An attack is unlikely.
Jonathan Evans, director-general of Britain's MI5 intelligence service, said recently that there has been "a persistent rise in terrorist activity and ambition in Northern Ireland over the past three years," and he attributes the problem to Irish Republican dissidents.
Northern Ireland was beset by Protestant-Catholic sectarian strife for decades until the Good Friday Agreement was forged in the late 1990s. But this year, dissident Republicans have made more than 30 attacks or attempted attacks on national security targets, compared with more than 20 all of last year.
"Perhaps we were giving insufficient weight to the pattern of history over the last hundred years, which shows that whenever the main body of Irish Republicanism has reached a political accommodation and rejoined constitutional politics, a hardliner rejectionist group would fragment," Evans said.
He said there is a great variety of attack techniques and improved weapons capability.
"While at present, the dissidents' campaign is focused on Northern Ireland, we cannot exclude the possibility that they might seek to extend their attacks to Great Britain, as violent Republican groups have traditionally done. Therefore, while we do not face the scale of problems caused by the Provisional IRA at the height of the Troubles, there is a real and increasing security challenge in Northern Ireland."
FOLLOW THIS TOPIC