Dutch release ex-terror suspect without charge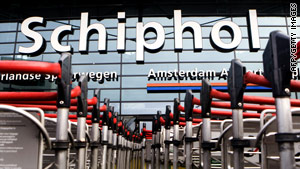 It is the second time in less than a month that people were arrested at Schiphol Airport on suspicion of terror links.
STORY HIGHLIGHTS
An investigation into a British man of Somali origin finds no evidence against him
Neighbors had warned British authorities he might plan to participate in terror in Somalia, the Dutch say
Two Yemeni men held at the same airport less than a month ago were also freed without charge
(CNN) -- A British man of Somali descent who was arrested Sunday in the Netherlands on suspicion of links to terror organizations has been released without charge and has left the country, the Dutch Ministry of Justice said Wednesday.
The man -- who has not been named -- was arrested on a tip from the British, who told Dutch authorities the man "had serious plans to participate in the terrorist war in Somalia," the Dutch said.
British and Dutch investigations found no evidence of the allegation and the man was released, the ministry said.
It is the second time in less than a month that people were arrested at Amsterdam's Schiphol Airport on suspicion of terror links and then released without charge.
Two Yemeni men were arrested there en route from Chicago, Illinois, to Sanaa, the capital of Yemen, on August 30, Dutch authorities said.
The arrest followed U.S. concerns about potentially suspicious items in their luggage, including a phone taped to a bottle.
But on closer investigation, concern about them evaporated.
They were cleared of wrongdoing and released on September 1.
Investigations into the British Somali man held on Sunday will be closed, Dutch public prosecutor's spokesman Evert Boerstra told CNN Wednesday.
He was arrested after neighbors of his spoke to British authorities about him, Boerstra said.
The man was flying to Uganda from Liverpool, England, via Amsterdam, said Boerstra. The suspect was arrested as the flight was readying for departure, he said.
CNN's Antonia Mortensen contributed to this report.
FOLLOW THIS TOPIC