STORY HIGHLIGHTS
Rosemarie Stevenson was eight years old when she met Pope John Paul II
28 years later the cerebral palsy sufferer has been invited to receive communion from Benedict XVI
It is the first state visit by a pontiff to the UK after John Paul II's pastoral visit in 1982
Benedict visiting Scottish cities of Edinburgh and Glasgow before moving on to England
As a sex abuse scandal rocked the Roman Catholic Church, what did Pope Benedict XVI -- then a cardinal and Vatican official -- know, and when did he learn it? Watch the CNN investigation "What the Pope Knew," September 25 & 26 at 8 p.m. ET.
Edinburgh, Scotland (CNN) -- At a time when the Catholic Church is facing widespread anger over allegations of abuse among clergy, Pope Benedict XVI's official visit to Britain is being viewed by some Catholics as a chink of light in the seemingly endless gloom.
For 36-year-old Scot Rosemarie Stevenson, who suffers from cerebral palsy, his arrival will resume a unique relationship with the church that dates back to the last papal visit to these shores in 1982.
At the age of eight, she received her first communion from Pope John Paul II as he celebrated mass in Glasgow's Bellahouston Park during the Scottish leg of his tour.
The estimated 300,000 worshippers that day were captivated by the sight of Rosemarie being lifted from her wheelchair and carried in her mother's arms up the last few steps of the dais to be received by the pope.
"She was the first person ever to receive Holy Communion by a pope in Britain," her father told CNN.
"But it took us all by surprise and didn't really hit us at the time. You're carried away in the moment with thousands of people, the pope arriving in a helicopter, the television cameras.

Video: Protests planned for pope's UK visit

Video: Archbishop on abuses in Catholic church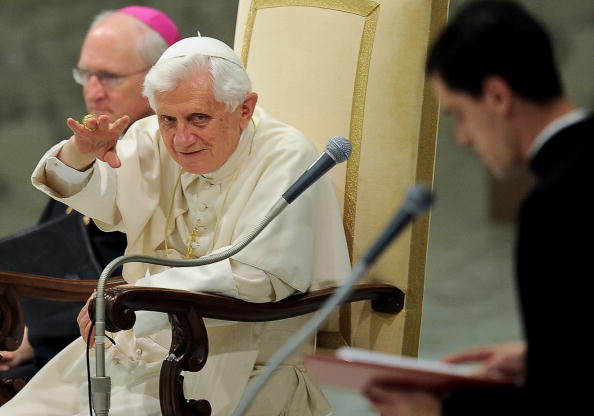 Gallery: Papal visits to UK
"It's hard to understand because we're an ordinary family from Glasgow. It's amazing. She's traveled around the world on holiday and has been stopped by strangers who remember her moment."
Almost three decades on and the Catholic Church has invited Rosemarie to receive communion from Pope Benedict when he celebrates mass in almost the same spot on Thursday.
Why is Benedict coming to Britain?
"Rosemarie's heroic climb to receive communion from Pope John Paul all those years ago touched the hearts of a nation," a spokesperson for the Archbishop of Glasgow, Mario Conti, said in statement.
"It seemed appropriate that 28 years on, Rosemarie should have the chance to relive that dream."
For retired Glasgow teacher Frank O'Hagen, Rosemarie's experience was typical of the benevolent nature of Pope John Paul II. "He had a very refreshing and basic Christian philosophy," he said. "That came across in his ability to relate to people of all ages, particularly young people."
He recalled taking a party of school children to Murrayfield Stadium in Edinburgh during the same visit and comparing the atmosphere to a Beatles or Rolling Stones concert in terms of the excitement.
Thursday - Pope arrives in Edinburgh. Meets Queen Elizabeth II. Holds Mass in Glasgow's Bellahouston Park
Friday -- Visits Archbishop of Canterbury at Lambeth Palace. Delivers speech in Houses of Parliament
Saturday -- Meets Prime Minister David Cameron. Holds Mass at Westminster Cathedral. Holds prayer vigil in Hyde Park.
Sunday -- Holds Mass in Birmingham's Cofton Park. Meets bishops of England, Wales and Scotland.
He said: "There was a tremendous enthusiasm and a great sense of welcome. Although I remember Ian Paisley describing the pope as the 'antichrist,' any negativity was overshadowed by the sheer scale of the event."
Paisley, a veteran politician and outspoken protestant church minister in Northern Ireland, will again be in Edinburgh to protest against the visit by Benedict XVI, saying it comes at a time when "the Pope's church is very deeply divided because of the behavior of many priests within the church and his evident desire not to enter into this matter and deal with it."
Other critics of the visit point to the Vatican's policy on gender equality and homosexuality.
O'Hagen agreed the abuses committed by some members of the clergy are "lamentable and a tragedy," but he said the Church is also an easy target for detractors on a whole range of issues as Britain moves more and more towards becoming a secular society.
"Campaigners such as Peter Tatchell are right when they say if using contraception can stop the spread of AIDS then it should be encouraged. Medically this is correct."
"But a pontiff cannot come out and say this because there are huge ethical issues too, such as freedom of choice, abstinence and recognizing that we can't have immediate gratification for all our needs."
There's no doubt this comes at a good time for the Church.
--Teacher Frank O'Hagen
Whether people are opposed morally or because of the perceived burden on taxpayers, O'Hagen insists Benedict's trip will prove as popular as his predecessor's visit 28 years ago.
Anger awaits Pope on landmark visit
"There's no doubt this comes at a good time for the Church. There will be a groundswell of love and appreciation of his concern for his flock, as it were. This is a wonderful event in more than a religious way. This is recognition of a people not just of Catholics."
This was echoed by Catherine, a lawyer from Edinburgh, one of thousands of people gathering along the city's Princes Street to watch the "Popemobile" sweep by.
"Whether you're a Roman Catholic or not, this is putting Scotland on the map when it comes to the millions of people watching this visit across the planet," she said.
"As a child I remember the previous pope visiting Scotland and the excitement it generated. It would be a great pity if this kind of thing was stopped because some people felt it was too expensive. Embarrassing too."
FOLLOW THIS TOPIC