STORY HIGHLIGHTS
Pope Benedict XVI heads to England and Scotland for four-day visit
The trip, the first ever state visit to the UK by a pope, has stirred anger from some
Protesters are angry over the cost to taxpayers, Vatican's record on human rights
London, England (CNN) -- Pope Benedict XVI arrives in Britain this week amid criticism over the landmark visit's cost to taxpayers and anger over the Vatican's record on child abuse and human rights.
A huge security operation is being mounted to protect the pontiff during his four-day tour --- the first papal state visit to Britain -- bumping estimated costs beyond £20 million ($31 million), with over half coming from government funds.
Tens of thousands are expected to greet Benedict at public Masses in the cities of Glasgow, Birmingham, and London and on the sidelines of meetings with political leaders, royalty and bridge-building events with Anglican Church officials
Benedict's September 16-19 trip is scheduled to culminate in the beatification of British Cardinal John Henry Newman, a Catholic convert who died in 1890 and is credited with helping rebuild Britain's Catholic community.
But with apathy and anger denting the UK's Catholic following (estimated at 9 percent of the population), the atmosphere greeting Benedict is expected to be very different from festivities that met a pastoral visit 28 years ago by his predecessor John Paul II.
Assistant Chief Constable Fiona Taylor, of Scotland's Strathclyde Police force earlier this week said she estimated only 65,000 pilgrims would attend the pope's Glasgow Mass -- short of an initially anticipated 100,000.
There has already been widespread outcry over the estimated £12 million to be levied on taxpayers for the pope's stay and to provide the armed police squads needed to protect a religious figurehead previously targeted by attackers.

Video: Archbishop on abuses in Catholic church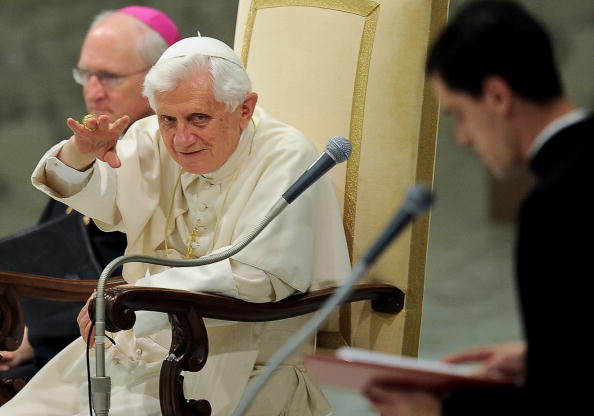 Gallery: Papal visits to UK

Video: A close up look at the Popemobile
Thursday -- Pope arrives in Edinburgh. Meets Queen Elizabeth II. Holds Mass in Glasgow's Bellahouston Park 
Friday -- Visits Archbishop of Canterbury at Lambeth Palace. Delivers speech in Houses of Parliament
Saturday -- Meets Prime Minister David Cameron. Holds Mass at Westminster Cathedral. Holds prayer vigil in Hyde Park.
Sunday -- Holds Mass in Birmingham's Cofton Park. Meets bishops of England, Wales and Scotland.
South Yorkshire Police Chief Constable Meredydd Hughes, who is coordinating security for the English leg of the trip, has estimated the policing bill alone could top £1.5 million.
The Association of Chief Police Officers insists the figure is a very rough estimate and doesn't take into account the reallocation of existing resources or the cost of policing the Scottish section.
Scottish police have already revealed they will deploy 1,600 officers, backed by armed units to protect the pope. The pontiff's own personal guard will not carry weapons.
More than 60 bridges will be temporarily closed when his 15-vehicle convoy travels from Edinburgh to Glasgow.
Police say some of the measures are being taken as a precaution against possible protests from Protestant groups who maintain a vocal presence in Glasgow.
Hughes says police operations in England will ensure the "safety and dignity of the pope," while also protecting his followers and those protesting the visit. He said there was no intelligence to suggest a specific threat against Benedict.
The pope is also expected to be dogged by anger over a child abuse scandal. Benedict has apologized for abuse perpetrated by priests in several Catholic communities around the world, but has faced criticism over the Vatican's handling of the issue.
Others in theUK have questioned why the pope has been accorded a state visit given his and the Catholic Church's attitudes towards gender equality and homosexuality.
"We object to the British government honoring him with a state visit -- we do not think he deserves it," Human rights campaigner Peter Tatchell, spokesman of the Protest the Pope group, told CNN.
"We also object to the fact that this visit has been funded by the taxpayer at the public expense. We do not as a country fund visits by the Grand Mufti of Mecca, or the Chief Rabbi of Jerusalem, so why should the pope's visit receive privileged financial support?"
Tatchell described Protest the Pope as "a coalition of Catholics and non-Catholics united in our opposition to the pope's often harsh, intolerant teachings."
A letter published in the Guardian newspaper, jointly signed by popular authors Terry Pratchett and Philip Pullman, scientist Richard Dawkins, and other British celebrities, also criticized the visit, chiefly over the Vatican's views on birth control, gay rights and abortion.
Catholic leaders and government officials have sought to defend the trip.
In a recorded video message Prime Minister David Cameron said Britain and the Holy See had "incredibly important work to do together" in promoting a "multi-faith dialogue."
"Not everyone will agree with everything the pope says, but that should not prevent us from acknowledging that the pope's broader message can help challenge us to ask searching questions about our society and how we treat ourselves and each other," he said.
Chris Patten, a former lawmaker appointed as Cameron's representative for the papal visit, told CNN the government was "delighted" by the visit and regards it as an "extremely special moment."
Archbishop Vincent Nichols, president of the Catholic Bishops' Conference of England and Wales says the trip will be justified by landmark events that will help forge stronger ties between the Catholic and Anglican communities.
Among these will be meetings with Queen Elizabeth II, the nominal head of the Anglican Church, joint prayers with the Archbishop of Canterbury and the first visit by a pope to the archbishop's Lambeth Palace residence.
Nichols has also indicated that the pope will likely hold private meetings with victims of child abuse during his visit, but said he hopes the issue will not "overshadow" the visit.
The pattern of his last five or six visits has been that he has met victims of abuse," Archbishop Vincent Nichols said on the BBC'S "Andrew Marr Show."
FOLLOW THIS TOPIC