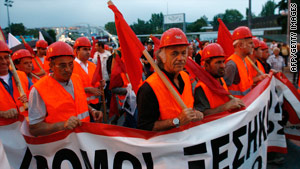 Greek workers marched Saturday in Thessaloniki.
STORY HIGHLIGHTS
Tensions high as Papandreou delivers his much-anticipated austerity speech
New measures include major overhaul of state rail company
Prime minister plans to cut corporate taxes
Athens, Greece (CNN) -- As Greece backs away from the brink of bankruptcy, protesters lashed out against Prime Minister George Papandreou Saturday as he reaffirmed his drive to cut Greece's mounting deficit with new austerity measures.
"The battle we are waging is for the survival of Greece," said Papandreou. "This not a battle that the prime minister or his government will win or lose. This battle we will either we all win it together or we will all sink together," he said.
Tensions ran high as Papandreou delivered his much-anticipated speech in the northern city of Thessaloniki, where he outlined corporate tax cuts and a major overhaul of Greece's state-run rail company.
OSE, the rail company, is said to be bleeding money, with an estimated debt at around $13 billion, officials have said. If the changes are implemented, about 40 percent of OSE's 6,300 workers would be let go, but offered other public sector jobs. The rail service would face private competition, he added.
The embattled leader also pledged to deregulate the energy market, push forward with privatization plans and simplify business licensing procedures. He also said he would open up restricted professions in order for Greece to comply with European Union regulations. Accordingto Papandreou, these measures are important to make the Greek economy more competitive.
"Greece is not a poor country," Papandreou added.
"But what is keeping us pinned down? A deep, old, outdated view of our capabilities and our relations summarized into one phrase: 'It can't be done'.' We built a world of bureaucracy and lust for power. A world of corruption, of small and big privileges and interests for anyone who could take advantage of other people," he said.
Greece's labor unions are protesting the new measures and vowed to challenge the prime minister's position.
"Unions don't agree with the social and economic politics of the government," said Spyros Papaspyrou, leader of the large civil servants' union ADEDY.
The union of truck drivers, a restricted profession until now, has already called a nationwide strike for Monday.
A week-long strike this summer left Greece dry in the height of the tourist season, with large parts of the country running out of fuel supplies.
In Thessaloniki, police used tear gas against several hundred people trying to break through police lines protecting Papandreou.
Earlier on Saturday,a 49-year-old doctor was arrested for throwing a shoe at Papandreou in protest of the government's austerity measures.
An initial round of cutbacks was introduced in the spring in a bid to decrease Greece's budget deficit from around 14 percent of its gross domestic product to under the EU limit of 3 percent by 2014.
Greece was saved from default in May when the EU and the International Monetary Fund agreed to a 110- billion-euro, three-year loan bailout.
According to European Central Bank estimates, Greece's economy is expected to shrink by 4 percent in 2010 and some 2 and a half percent in 2011.
Earlier in May, analysts feared that Greece's sovereign debt crisis and increased public borrowing could trigger a financial contagion in other countries with large deficits such as Portugal, Ireland, Italy, and Spain.
Greek workers and businessmen are unsure the government's belt-tightening measures will have any effect.
After watching the televised speech, Yiannis Tsikouras, the owner of a tile factory in Thessaloniki, told CNN the measures are not sufficient to protect him from closing his business or moving it to neighboring Bulgaria.
"Construction has dropped severely and people do not renovate their houses the way they used to. All they think about is 'every cent' counts. And they are right. I do the same. But if no-one sells and no-one buys then even more businesses will close.
Many factories have already moved to Bulgaria where the terms are more favorable and the running costs are cheaper," Tsikouras said. " I am glad the prime minister is trying to cut red tape and improve competitiveness, but the truth is that in the case of Greece I think it is a case of too little too late."
In Athens, retired civil servant Maria Nikolopoulou, 67, whose pension was has been slashed by 12 percent, says she was expecting the prime minister to do more "for the people of Greece, not just businesses."
According to Nikolopoulou, the prime minister failed to propose any measures to improve conditions for those who have been most affected.
"I was hoping that he would give us some kind of bonus, or something to balance the fact that prices have gone up so much. But nothing. How are we to live? Fuel prices have been rising and they might go up again, and the health system is barely functioning so I have no choice but to go to private doctors. I can barely eat let alone warm the house and go to the doctor with my current pension," she said.
Journalist Elinda Lapropoulou and CNN's Helena de Moura contributed to this report.
FOLLOW THIS TOPIC