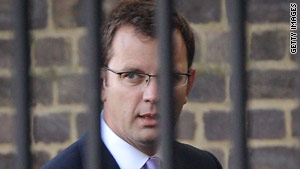 Andy Coulson resigned as editor of the News of the World after a reporter was jailed for hacking into phone messages.
STORY HIGHLIGHTS
David Cameron's deputy sticks by his boss's communications aide
NEW: Cameron's father Ian dies after suffering stroke and heart complications
Cameron flew out to see his father who was on vacation in France
PR chief Andy Coulson was editor of a newspaper whose reporter was imprisoned for hacking
London, England (CNN) -- David Cameron missed prime minister's questions to be with his dying father Wednesday, depriving lawmakers of their first chance to grill him in public since the revival of a scandal involving his top public relations aide.
Cameron's father Ian died after suffering a stroke and heart complications while on vacation in France, Downing Street said. The British PM had earlier flown to France to be with his father, missing the weekly Question Time in the House of Commons.
"It is with deep regret we can confirm that Ian Cameron died earlier this afternoon," Downing Street said in a statement. "He passed away shortly after the prime minister arrived at the hospital in France where he was undergoing treatment."
Cameron's deputy, Nick Clegg of the Liberal Democrat party, instead faced intense questioning about the Downing Street communications chief, Andy Coulson, who used to be the editor of a tabloid newspaper accused of widespread hacking of celebrities' voice mails.
Coulson "made it very, very clear he had no knowledge" of hacking by his staff, "and that statement speaks for itself," Clegg insisted.
Senior opposition Labour lawmaker Jack Straw tried to drive a wedge between Clegg and Cameron -- a Conservative -- by demanding that Clegg express a position on Coulson.
Clegg wouldn't take the bait.
"It is now for the police and the police alone to decide whether new evidence has come to light," he said.
Police expect to question Coulson as part of their investigation into the hacking scandal, a top British police official said Tuesday.
"Phone hacking" takes advantage of a facility that allows a cellphone user to access their messages from another telephone. Usually this is done by dialling one's own phone and then entering a PIN code when the voicemail system kicks in. Since many users do not bother to change their PIN codes from the default settings, these can sometimes be guessed. But journalists are also alleged to have "blagged" confidential information such as security numbers from phone companies, sometimes enlisting the help of private investigators.

The New York Times alleges journalists used a method called "double screwing" to force a phone to voicemail by making simultaneous calls to the same number. Once a correct PIN has been entered, the hacker has full access to the phone owner's messages including the option to delete them.
"At some stage I imagine we would be seeing Mr. Coulson in some capacity," said Metropolitan Police Assistant Commissioner John Yates. He refused, in questioning by lawmakers, to be pinned down about when.
The House of Commons Home Affairs Committee is opening a new investigation into the hacking of phones, it announced Tuesday, after questioning Yates over what police did and did not do about the alleged hacking.
Coulson resigned as editor of the News of the World newspaper after one of his reporters was sent to prison for hacking into phone messages of the royal family's household staff.
Both News of the World and Cameron's office said Tuesday they had no response to Yates' comment.
But Coulson said Monday he would be happy to meet with police voluntarily and "vehemently denies" allegations he knew of widespread phone hacking at his newspaper.
News of the World has also denied a culture of using illegal methods to get stories.
News of the World royal reporter Clive Goodman and private investigator Glenn Mulcaire were sentenced to prison in 2007 for hacking into voice mails of members of the royal family's staff.
Mulcaire also admitted hacking into model Elle MacPherson's messages, among others.
But The New York Times alleged in a detailed investigative story that -- far from Goodman and Mulcaire being lone culprits -- phone hacking was common practice at the newspaper.
The New York Times article last week prompted a furious response from a number of public figures, including former Deputy Prime Minister John Prescott, who demanded that the police tell him if his phone had been hacked.
Yates said Sunday that "the newspaper produced no new evidence for us to consider reopening the case," but had reversed himself by Tuesday's parliamentary committee hearing.
Police will question one of the few sources who went on the record in the Times article, former News of the World journalist Sean Hoare, Yates said.
Hoare told the Times that Coulson, then his boss at the tabloid, "actively encouraged me" to hack into the voice mails of public figures to get stories for the News of the World.
Coulson's allies have cast doubt on Hoare's credibility since the Times article came out September 1, pointing out that Hoare was fired from the paper over allegations of drug and alcohol abuse.
The New York Times also alleges that the police did not pursue their investigation into the News of the World as aggressively as they could have, both because of a "symbiotic" relationship between the police and the paper and because they were busy with other investigations.
Yates did not respond to those allegations.
The News of the World, which is owned by News Corp., Saturday rejected "absolutely any suggestion there was a widespread culture of wrongdoing" at the paper.
A British parliamentary committee twice investigated the tabloid.
Witnesses associated with the paper insisted there was no evidence that phone hacking extended beyond the two who were found guilty of it.
FOLLOW THIS TOPIC