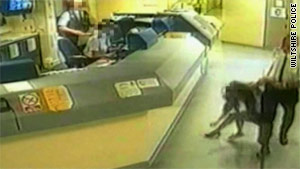 Wiltshire Police video footage shows Sgt. Mark Andrews dragging Pamela Somerville across the floor.
STORY HIGHLIGHTS
NEW: The victim says she hasn't been able to work and is losing sight in one eye
Sgt. Mark Andrews was caught on tape dragging a woman and throwing her into a cell
He was sentenced to six months for causing "actual bodily harm"
Police apologized to the victim, who had been lawfully arrested but was never charged
London, England (CNN) -- A British police sergeant who dragged a middle-aged woman through a police station and hurled her into a cell, leaving her bruised and bloody, was sentenced Tuesday to serve six months in prison.
Sgt. Mark Andrews was sentenced for assaults causing "actual bodily harm," Oxford Magistrates Court said.
The incident was caught on the station's closed-circuit television system and shocked Britain when the video was released this weekend.
In the video, she lies motionless in the cell for a moment before struggling to her feet. Moments later, the floor is spattered with blood.
Photos she provided to CNN show her left eye blackened and blood running down her face.
Pamela Somerville, 57, expressed anger Tuesday, saying that with the six-month sentence, "he could be out in three months" while she has had "two years of hell."
"After three months, he's healthy and can start his life again. I am losing sight in my left eye," she told CNN.
After three months, he's healthy and can start his life again. I am losing sight in my left eye
--Pamela Somerville
"OK, he's lost his job. I haven't been able to work since" the assault, she said, saying she keeps getting eye infections and cannot drive at night.
"It's very hard to hold down a job," said Somerville, who used to work in market research.
Somerville had no idea why she was arrested after her car broke down on "a little country lane" at 8:30 a.m. one morning in 2008, she said.
"All the way back to the police station they wouldn't tell me why they were arresting me, they just kept telling me to shut up," she said. "They threw me in the cell. It was absolutely horrendous."
"At least the police did take the trouble to prosecute" the officer who assaulted her, she said.
The woman sustained an injury to her face in the 2008 incident at Melksham Police Station in Wiltshire, Assistant Chief Constable Patrick Geenty said in a statement Sunday. Police did not identify her by name in their statement.
"We are extremely concerned when anyone is injured whilst in our custody and the court has decided that this injury was as a result of a criminal assault by Sgt. Mark Andrews, a member of Wiltshire Police who was performing duty as a custody sergeant at the time," the statement said.
"We respect the decision of the court and Wiltshire Police has formally apologized to the injured lady for the assault she suffered whilst in our care."
The incident was reported by another officer at the station "who was concerned at what had taken place," the police statement said.
"The officer found herself in a very difficult situation created by her own supervisor but performed her duty in accordance with the highest standards expected of a police officer in bringing this unacceptable incident to the attention of another supervisor."
Andrews was removed from public duties as soon as the supervisor was made aware of the incident, and police referred the matter to the Independent Police Complaints Commission, which decided an investigation should be conducted by Wiltshire police.
That resulted in a file being sent to the Crown Prosecution Service, which led to Andrews' trial.
After his conviction on July 30, Andrews was suspended from duty immediately. An internal police conduct hearing is set for next month.
Somerville was lawfully arrested on suspicion of drinking and driving and refused to take a test. She was not charged with any offense, police said.
"The incident should not have happened, and I am very sorry that we let this lady down," Geenty said.
Somerville said she was told of the charge against her only after hours in a cell, an ambulance trip to the hospital for stitches and X-rays, a return to the police station and a conversation with a lawyer.
"At the end of the day they said they were charging me with failure to do a breath test by the side of the road," she said, saying she had never been asked to do one.
"If they asked me I would have done one rather than being dragged into the police station," she said. "It was 8:30 in the morning. I had not been drinking."
CNN's Bharati Naik contributed to this report.
FOLLOW THIS TOPIC