Mullen: U.S. will bypass Turkey in Iraq weapons withdrawal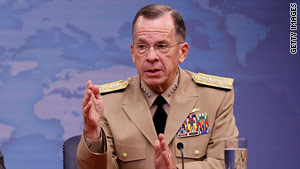 Chairman of the U.S. Joint Chiefs of Staff, Adm. Mike Mullen, said the U.S. will not transport weapons through Turkey.
STORY HIGHLIGHTS
Mullen says Turkey will not be used to withdraw U.S. weapons from Iraq
He is holding meetings with top Turkish officials
Any transfer of weapons or U.S. combat soldiers needs parliamentary approval
Istanbul, Turkey (CNN) -- The chairman of the U.S. Joint Chiefs of Staff on Saturday said the United States does not plan to use Turkish territory in withdrawing its weapons from Iraq.
Adm. Mike Mullen, the highest-ranking military official in the U.S. armed forces, spoke at a news conference in Ankara.
News reports suggesting his visit was about the transfer of heavy combat equipment from Iraq via Turkey were "simply false and completely without merit," he said.
"We do not transport weapons through Turkey, nor do we plan to in the future," Mullen said.
The admiral held meetings with the new Turkish chief of general staff, Gen. Isik Kosaner, and Defense Minister Vecdi Gonul in Ankara on Friday. He planned to meet Turkish Prime Minister Recep Tayyip Erdogan later Saturday.
Turkish Foreign Ministry spokesman Selcuk Unal said Friday that the United States has not made any request with regard to weaponry withdrawal through Turkey during the pullout of combat forces from Iraq.
"We look favorably on the transfer of non-military elements and technical material via Turkey," Unal said.
Any transfer of weapons along with U.S. combat soldiers through Turkey would require Turkish parliamentary approval.
Relations between United States and Turkey suffered in March 2003 when the Turkish Parliament denied access to U.S. troops to use its territory to invade Iraq.
Turkey, as NATO's only Muslim member country, plays a critical role in the region, also because it has the second-largest army in the alliance.
It has 1,740 troops in Afghanistan, the ninth-largest contribution of the 47 nations participating in the NATO force there, according to the most recent figures from NATO's International Security Assistance Force.
Asked whether the United States has any demands of Turkey with regard to Afghanistan, Mullen said his visit was not aimed at pressuring Turkey and said America would like to see Turkey sustain its efforts in Afghanistan.
The United States withdrew its last combat brigade from Iraq last month. U.S. President Barack Obama has pledged to end combat operations in Iraq by September 1, leaving about 50,000 non-combat forces in the country in an advisory and assistance mission.