Fires ravage central Russia, killing at least 8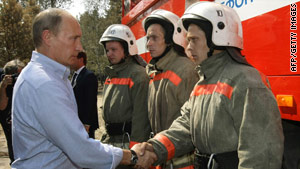 Russian PM Putin has allocated $33M to two regions affected by fires.
STORY HIGHLIGHTS
NEW: Death toll from fires doubles
At least 17 people are injured
Hundreds of people are moved to temporary homes, authorities say
Short circuits in electrical lines started blazes
Moscow, Russia (CNN) -- Fires left at least eight people dead and hundreds homeless in three regions of central Russia, government officials said Friday.
The regions of Volgograd, Saratov and Samara -- all along the Volga River in central Russia -- have been hit by forest fires, the Russian Emergency Situations Ministry said.
Volgograd suffered some of the most damage, with flames attacking 502 buildings, including 308 homes. In Saratov and Samara, a total of 532 buildings, including 400 homes, were affected, according to the ministry.
The ministry reported that most of the 74 fires that emerged in the past 24 hours in central Russia have now been contained.
The blaze started after severe wind storms, coupled with hot weather, disrupted electricity transmission lines, causing short circuits that led to the fires, the ministry said.
More than 2,500 firefighters and rescuers are battling the blazes. The ministry said it is increasing its efforts to localize and put out the fires.
They affected 20 villages in the Volgograd region and six in Saratov, the ministry said on its website.
Russian Prime Minister Vladimir Putin signed a decree Friday allocating 1 billion rubles (almost $33 million) in financial aid to victims.
The funds will be used to replace houses lost in the fires and compensate for the loss of property.
Families of those who died will receive a lump sum of 1 million rubles (almost $33,000), according to the decree.
Interfax news agency said that almost 50 houses burned in Penza, another region of central Russia. No fatalities were reported.
Meanwhile, state prosecutors have started criminal proceedings against some local officials in the Volgograd and Saratov regions amid allegations of negligence.
FOLLOW THIS TOPIC