Three dead babies found at Dutch home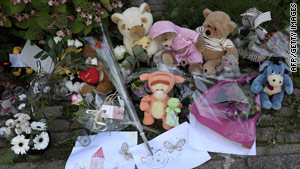 Toys and flowers lie in tribute outside a house where the bodies of three babies were found.
STORY HIGHLIGHTS
The first baby was found Friday, and two more were found Wednesday
A 41-year-old woman is in custody
Investigators are trying to find out whether the babies are hers, and how they died
(CNN) -- Dutch investigators were trying to determine Thursday whether the bodies of three babies found at a home in the Netherlands belong to the woman who lived there.
The 41-year-old woman has been in custody since Friday, when the first baby's corpse was found at her home in Geleen, in the southern Netherlands, the Justice Department said.
Two more bodies were found in the home's garden late Wednesday, the department said.
Further forensic tests are required to find out how and when the babies died, they said.
Officials said the woman will be held in custody for at least another two weeks.
CNN's Laura Perez Maestro contributed to this report.