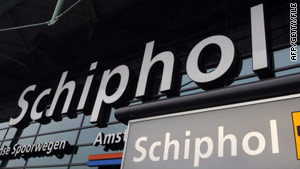 STORY HIGHLIGHTS
NEW: Yemeni government spokesman blames the news media
Two men detained for suspicion of terrorism have been freed
No evidence found to support wrongdoing, prosecutors say
The two are Yemeni citizens, the Dutch say
(CNN) -- Two Yemeni men arrested as possible terror suspects at Schiphol International Airport in the Netherlands have been cleared of wrongdoing and freed, Dutch authorities said Wednesday.
"Given that no evidence has been found to support the initial accusation, there is no reason to hold the men any longer and they are no longer considered suspects," Dutch prosecutors said on their website.
The Dutch authorities had been detaining the men held on suspicion of plotting a terrorist act, but the two were not charged, said Ernst Koelman, a prosecution spokesman.
In a statement, a spokesman for the embassy of the Republic of Yemen in Washington, Mohammed Albasha, said the public had been warned "not to jump into early conclusions before investigations took its course."
"Unfortunately, some news outlets played a significant role in exaggerating the circumstances behind their arrests and what was initially a security inspection quickly became a media sensation highlighting an unfortunate, yet ongoing misunderstanding of Yemen and its citizens," he said.
"It is important to emphasize that Yemen is a victim of terrorism as well, with al Qaeda operatives having killed over 50 Yemenis in the past three months. Americans of Yemeni descent will soon be joining their fellow U.S. citizens in New York City to mourn the loss of their Yemeni brethren killed during the heinous attacks of September 11."
The two Yemeni citizens were arrested Monday while en route to the Yemeni capital, Sanaa, from Chicago, Illinois, Dutch officials said.
A U.S. law enforcement source said Monday the men may have been trying to test U.S. airport security by putting bottles attached to electronic devices in their checked baggage.

Video: Relative of terror suspect speaks
But two U.S. government officials said Tuesday an initial U.S. investigation into the men showed no evidence of terrorism and no indication that they even knew each other.
"This looks like nothing," said one of the officials, adding that both men missed flights in Chicago because of a gate change and their airline rebooked them onto the same plane.
"We see no evidence of a dry run or a connection to terrorism," said the source, who is not authorized to discuss the case with the media and asked not to be named.
The Department of Homeland Security noted before the men were freed that the two "have not been charged with any crime in the United States."
"In this instance, sound judgment led to suspicious items being identified, which triggered automatic security responses by U.S. security personnel," the department said. " ... When the investigation tells us more, we will let you know, but we don't have anything else at this time."
Another U.S. official said the Dutch were being cautious and wanted to check everything.
That official, who also asked not to be named, said the United States did the same.
The Homeland Security department said the two were taken into custody after "suspicious items" in their luggage raised concern.
"The items were not deemed to be dangerous in and of themselves, and as we share information with our international partners, Dutch authorities were notified of the suspicious items," the U.S. agency said. "This matter continues to be under investigation."
Those items were an empty shampoo bottle with watches attached to it and an empty bottle of a stomach medicine with mobile phones attached, according to the U.S. law enforcement source, who has been briefed on the investigation.
Dutch authorities confirmed that one phone was found taped to a bottle and seized in the United States. Nothing else suspicious was found in the men's luggage, the Dutch said.
Attempts to sneak liquid explosives aboard jetliners were at the heart of a 2006 plot broken up by British authorities. That case led U.S. authorities to ban all but small quantities of liquids from aircraft cabins.
U.S. law enforcement officials told CNN that the men's checked bags also contained knives and box cutters.
Passengers have been banned from carrying those items on aircraft since the September 11, 2001, attacks on New York and Washington, but they are allowed in checked bags.
The source identified the men aboard United Airlines Flight 908, from Chicago, Illinois, to Amsterdam, as Ahmed Mohamed Nasser al-Soofi and Hezem al-Murisi.
Al-Soofi began his trip by boarding a flight in Birmingham, Alabama, and al-Murisi originally flew from Memphis, Tennessee, the law enforcement source said.
Al-Soofi had been back to Yemen at least twice previously to deliver money and gifts, and bought watches and cell phones as gifts for family members on this trip, said co-worker Ali Moqbel in Tuscaloosa, Alabama.
Al-Murisi was scheduled to fly from Chicago to Yemen, with connections in Washington and Dubai, a U.S. government official said, but his flight was changed to go from Chicago to Amsterdam.
Another U.S. law enforcement official said both men were in the United States legally.
That official said neither of the passengers was carrying items that are barred from aircraft, and federal air marshals were aboard the Chicago-to-Amsterdam flight.
Al-Soofi's luggage went aboard the Chicago-to-Washington flight without him, the source said, in what amounted to another violation of U.S. safety protocols.
The official said al-Soofi and al-Murisi were seated near each other on the Chicago-to-Amsterdam flight, but were not seated next to each other.
CNN's Eileen Hsieh, Atika Shubert, Nic Robertson, Carol Cratty, Jeanne Meserve, Mike Ahlers, Dave Mattingly and Susan Candiotti contributed to this report.
FOLLOW THIS TOPIC