Gadhafi heading to Italy to mark bilateral pact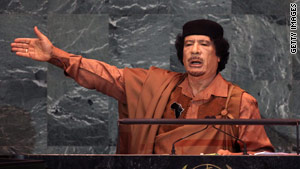 Libyan leader Moammar Gadhafi, pictured her in September 2009 at the United Nations, New York.
STORY HIGHLIGHTS
The two nations signed a pact to mark closer ties
Gadhafi's travel plans have changed several times
(CNN) -- Libyan leader Moammar Gadhafi plans to travel to Italy this weekend, a year after his historic trip there to mark closer ties between the two countries.
He is expected to arrive Sunday at Rome's Ciampino Airport and depart Tuesday, the Italian government said, though his travel plans have changed numerous times. He was earlier scheduled to arrive Saturday.
Libya and Italy signed a pact in August 2008 that normalized relations and closed the painful chapter of Italian colonization in Libya. The pact was signed in Libya, and last year, Gadhafi made his first visit to Rome to mark its anniversary.
This year's anniversary will be marked with an equestrian show, for which Libya is sending 30 horses and riders. Italian Carabinieri, or military police, will also take part in the show with their own horses.
A gala dinner with about 800 guests is planned for after the show, according to the Italian government press office.
Gadhafi is also expected to inaugurate a Libyan academy in Rome.
Like he often does on foreign visits, Gadhafi plans to stay in a traditional Bedouin tent while in Rome, the press office said. Last year, he set up the tent in one of Rome's most beautiful central parks, Villa Pamphili.
The tent caused as much of a stir as the Libyan himself when Gadhafi visited the United Nations last year for the first time to deliver a speech at the General Assembly.
His plans to set up the tent on Libyan property and in Central Park had to be canceled after public outcry. He ultimately set it up on property belonging to Donald Trump in Bedford, New York.