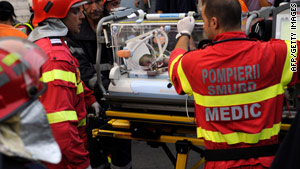 Rescuers tend to a newborn injured by a fire at the Giulesti Maternity Hospital in Bucharest, Romania, on August 16.
STORY HIGHLIGHTS
Chief of technical department taken into custody
Co-workers write letter in support of nurse held in jail
Five newborns died, six others were injured in August 16 blaze
Romanians have launched a criminal probe
(CNN) -- A hospital official in Romania's capital has been arrested on charges of negligence with severe consequences in connection with a deadly maternity hospital fire.
Vasile Dima, chief of the technical department of Bucharest's Giulesti Maternity Hospital, was taken into custody Friday. A court will soon determine whether to keep him detained or free him before a trial.
Romanian authorities have launched a criminal inquiry into the August 16 blaze in which five newborns died and six others were injured, Marius Iacob, the chief prosecutor in charge of the investigation, said this week.
Investigators say Dima didn't fulfill his duties as chief of the technical department. Prosecutors say he didn't make sure the operation in his department ran smoothly and didn't take steps to prevent fires, even though he was also chief of the hospital's civilian firefighting team.
The inquiry will end in a trial, and a judge could decide to shut the hospital, Iacob said.
In the investigation that followed the blaze, authorities found violations of safety rules involving workers, the security of electrical systems and human resources management, Iacob said.
The hospital faces charges of manslaughter and unintentionally causing injuries, said Iacob. Florentina Cirstea, a nurse in charge of the maternity hospital's intensive care unit, where the fire broke out, faces the same charges. A judge on Tuesday ordered Cirstea jailed for 29 days while she awaits trial.
The hospital's interim manager met with prosecutors Wednesday. Authorities also questioned the hospital's suspended manager and plan to do so again, Iacob said.
The hospital has filed a malpractice insurance claim for 500,000 euros (about $632,500), he said, but that will not cover the damages, which have been estimated to be at least 1 million euros ($1.25 million) and possibly higher. That does not include any claims filed by the victims' families, Iacob said.
More people may be charged in the case, the prosecutor said.
Meanwhile, Cirstea's colleagues at the hospital sent a letter to media outlets Wednesday expressing their support for her and blaming the Romanian health care system for the tragedy.
During her 14 years as a nurse in the intensive care unit, Cirstea has taken care of thousands of premature babies with health problems. Many have been saved because of her professionalism, the staffers said in the letter.
Cirstea's attorney, Simona Luciana Parvu, has appealed the judge's decision to jail her client. The judge on Tuesday accepted the prosecutors' request to arrest Cirstea because she failed to fulfill her duties to care for the 11 newborns in the intensive care unit at the time of the blaze.
Besides those allegations, the judge noted in the motivation for deciding to arrest Cirstea, released Wednesday, that she changed her statements and lied several times about what she was doing and why she left the ICU.
Parvu's appeal is set to be discussed Monday by another judge, and Cirstea may be released.
When she was supposed to have been on duty in the ICU, Cirstea left the newborns unattended for 12 minutes, going to another hospital room and to the bathroom, the prosecutor said in the arrest warrant.
The defense lawyer acknowledged that her client left the ICU to go to the bathroom, but said she then was called by a colleague to another room because the colleague had been called to help deliver a baby.
Parvu said Cirstea deeply regrets what happened, but also blamed the health care system. Cirstea's job description said that at least two other nurses were supposed to be with her in the unit at all times, but she was alone, she said.
If convicted of manslaughter, Cirstea could be sentenced to up to seven years in prison.
FOLLOW THIS TOPIC