STORY HIGHLIGHTS
Influential photographer Wolfgang Tillmans won Britain's coveted Turner Prize in 2000
His work first came to prominence in the early 90s with his photos of Berlin's rave scene
Tillmans has now turned to table-based installations which use press cuttings
London, England (CNN) -- Reading the news, says photographer Wolfgang Tillmans, makes him angry.
"People accept all sorts of violence whilst completely benign things are considered shocking," he says.
Tillmans, who has photographed everyone from celebrities to subcultures, is frustrated by what he sees as hypocrisy in the media and society.
"I always found it absolutely startling that showing two people, two men kissing each other was considered taboo on TV for a long, long time, whereas showing two men kill each other is completely acceptable," he told CNN. "That is totally insane for me."
So this year, the artist has decided to re-sensitize his audience by bringing news clippings into the serene confines of an art gallery.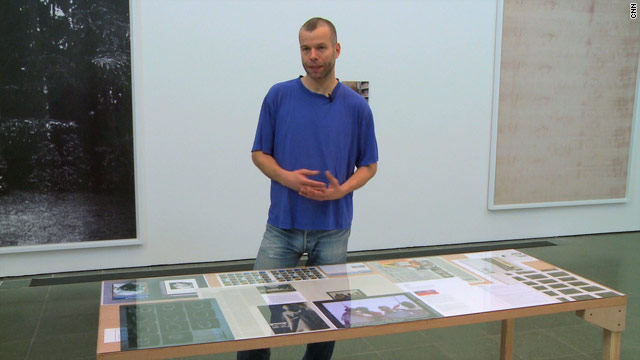 Gallery: The works of Wolfgang Tillmans
Lauded for his photographs, Tillmans has turned to table-based installations to jolt his audience into sharing the outrage he feels when reading the news.
Titled "Space, Food, Religion," the series of installations at London's Serpentine Gallery juxtaposes his works and found photographs with newspaper articles and press cuttings.
"I felt I can't address all of this in pictures, so I invented these tables as a form for me to speak about the world in a different way than in my pictures," he explained.
One table covers religion and its interaction with homosexuality. It includes a press cutting detailing the execution of two boys under Sharia law in Iran, a story that appalls Tillmans.
"During the last decade I got exceedingly exasperated at the resurgence of fundamentalisms, usually men, insisting on absolute truths, coming from a Christian side or an Islamist side," he told CNN.
Tillmans also found himself frustrated by "other questions of truth, like the whole issue of the existence, non-existence of weapons of mass destruction in Iraq or the denial of HIV as the cause of AIDS."
The everyday nature of the tables and the cuttings in contrast with their formal gallery setting is, indeed, jarring. That's his aim: It's this contradiction that Tillmans hopes will break through his viewers' compassion fatigue. He feels people should be "less afraid of uncomfortable truths, and less afraid of victimless crimes, of the things that don't hurt anybody."
People accept all sorts of violence whilst completely benign things are considered shocking.
--Photographer Wolfgang Tillmans
Perhaps because he observes the world so keenly through his lens, Tillmans has a history of seeing things that many do not: The boundaries and the backdrops that we take for granted.
When he first emerged through the early 90s rave scene, his grimy photos of Berlin and London clubbers broke the high-gloss, aspirational template of fashion photography. His work, now hailed as hugely influential, was seized by cutting-edge magazines such as i-D.
His focus on subcultures coupled with his disregard for artistic convention (many of his works were -- and still are -- taped to the wall rather than framed for display) made him a key figure in the movement to deconstruct and subvert both mainstream creative media and their environments.
Tillmans, who won Britain's coveted Turner Prize in 2000, skips across genres with ease. The breadth of his work encompasses portraits sculpted with light, landscapes that draw in and hold the eye, abstract and installation art.
A disdain for Flickr-style diary photography and computer-generated imagery -- "[it] doesn't impress me because it's just been made up" -- has led him recently to explore the photographic medium and demonstrate his technical skill through abstract works constructed from folded photography paper and photographic chemicals.
Now, following a period in the laboratory, he's ready to set out into the world again. This time, he wants to capture the disparate futures he sees developing around us.
"Even though we are in the 21st century, the gap between rich and poor is ever increasing," he said. "That is all visible somewhere in the shape of things around us."
Once again, his focus is upon the contradictions of modernity. "There is a growing detachment between the shiny new devices that we like to own and the people who make them," he continued.
"There is ... almost a sense ... that we are now living in the future, that so many things that people imagined 80 years ago are now part of reality," he said. "Some aspects are quite scary -- but I really want to capture what this 'now' feels like."
CNN's Ryan Smith contributed to this report.
FOLLOW THIS TOPIC